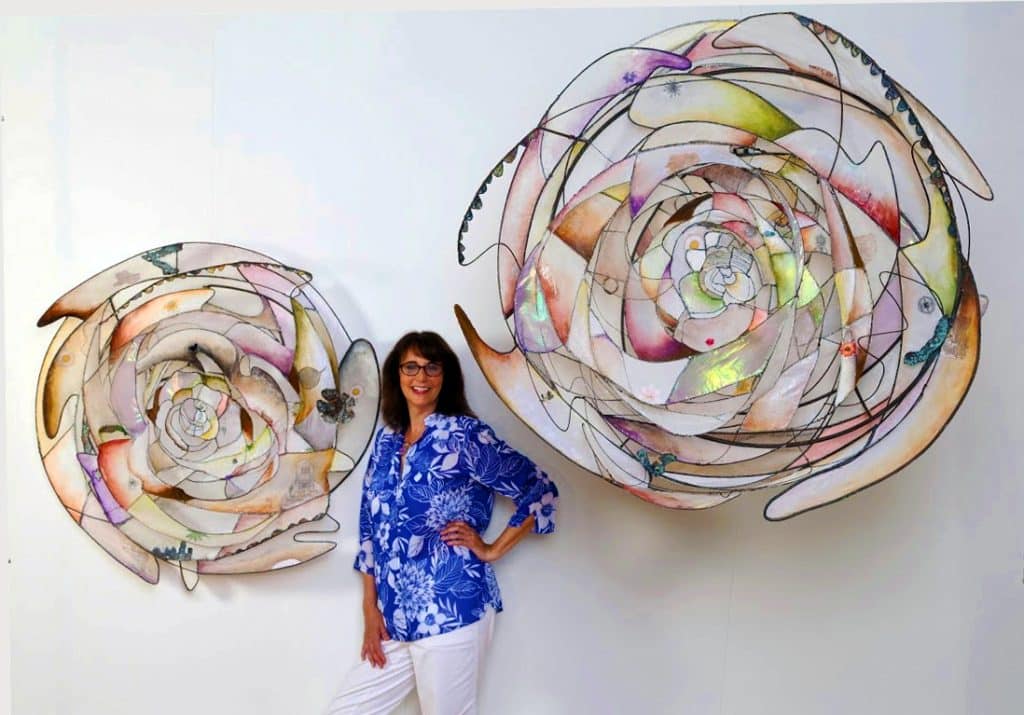 Jill King
Jill King's sculptures harness universal energies into a static form. Relating to otherworldly regions, her current artworks speak of inner growth and transformation. For inspiration, she looks at earthly forces of nature; a hurricane over the ocean, a cosmic Nebula bursting in space or a blossoming flower. Welded steel rod, sewn sheer fabrics and hand-painted acrylics are some of the materials used to create my dimensional wall works. King combines a mixture of media, that captures visual oppositions- heavy and light, sturdy and fragile, opaque and solid.
King has exhibited in many private and public places in Chicago including: The Harris Theater, The Lincoln Park Conservatory, Expo Chicago, SOFA, and The Ukrainian Institute of Modern Art. King is currently exhibiting her work at Alma Art + Interiors, Chicago.
Her work is housed in several private and public collections including; The Lorraine Morton Civic Center -Evanston IL, The Illinois Mathematics and Science Academy -Aurora, IL, Lewis University (Science Building)- Romeoville IL , Richland College-Decatur IL. and the Mills House Hotel in Charleston SC.
King's studio is located in Noyes Cultural Arts Center, Evanston, IL. You can view more of her work at ww.jillkingstudio.com.
Website: www.jillkingstudio.com/
Instagram: @jillkingstudio
Facebook: https://www.facebook.com/jill.king.3382
LinkedIn: https://www.linkedin.com/in/jillkingstudio/
Roundtable 2010: https://evanstonroundtable.com/2010/02/02/new-art-studio-rooted-in-artistic-growth/
Roundtable 2023: https://evanstonroundtable.com/2023/08/30/artwork-in-evanston-civic-center-hunt/