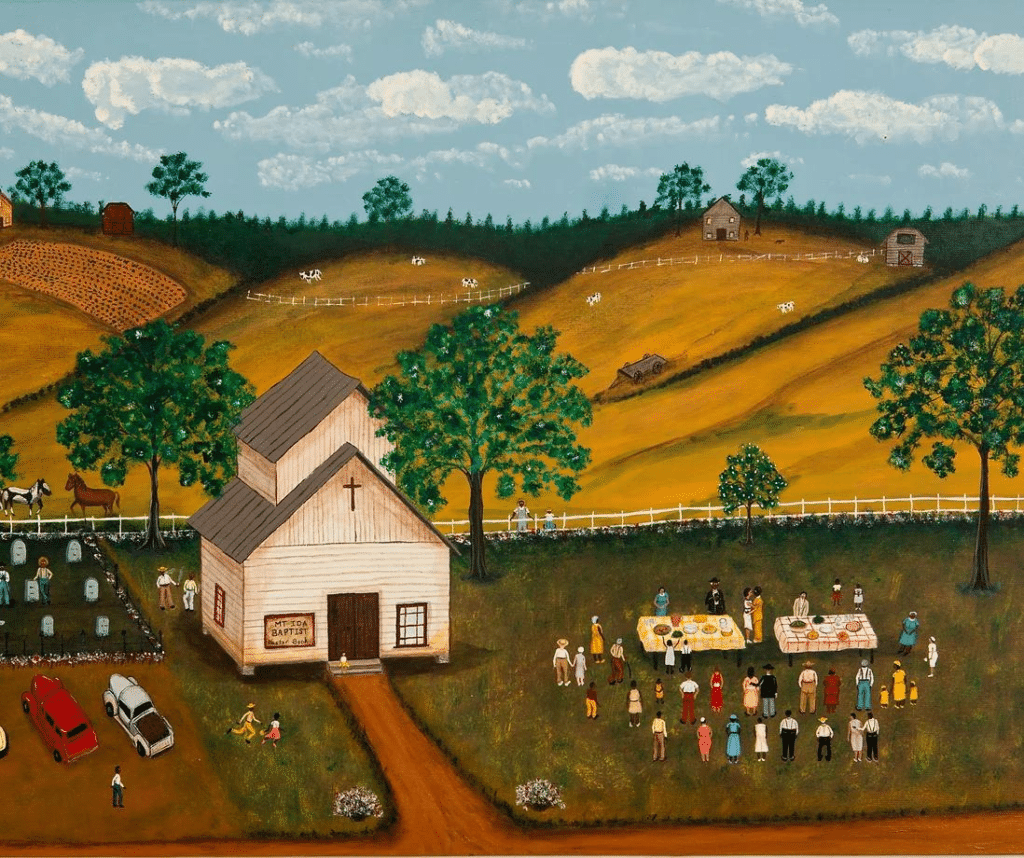 Jevoid Simmons
As long as I can remember I've been an art maker.  I'm not grounded in any specific artistic system. Art classes were a part of my educational experience from grade through junior high school.  Of all the schooling received in those years, the art classes resonated with me; they fed my soul.  I'm always amazed with the art produced by others, past and present and incorporate learnings from them where it makes sense.
Working in a number of artistic styles through the years, I now considers my style to be more in line with folk and primitive traditions. It's not tied to the necessity of precision.  It has a certain warmth and tranquility in the presence of turbulent surroundings and events of the day.  I have an affinity for the work of Grandma Moses (Anna Mary Robertson). Her work and that of similar artists capture a snapshot of life and tell a story.
May of my paintings support a written narrative in a recently published book, Up From Down Home: The Journey North. The book shares the story of my family's migration out of rural Alabama in the early 1950's.  The paintings for this project were executed over a seven-year period with the last one completed in 2015. My hope is that the warm, tranquil style will invite the viewer into the picture.  However, the related written narratives convey the extra ordinary hardships and the life and death struggle faced by Black folks living in the South under Jim Crow. ​My more recent work has been focused racial equity and justice issues in our country. 
In addition to painting, I'm a woodcarver and storyteller. My carvings are ongoing and capture family, friends, acquaintances and other characters from the past.  The carvings are a part of a collection I call Sugar Creek Folks. My work has been exhibited locally at the Lorraine H. Morton Civic Center, Evanston's Noyes Cultural Art Center, Evanston Art Center, Garrett Theological Seminary, The Art Institute of Chicago, 1100 Florence Gallery and Creative Coworking Gallery among other venues.
Email:
Website: http://www.sugarcreekfolkart.com/
Instagram: https://www.instagram.com/sugarcreekfolkart/
Facebook: https://www.facebook.com/jevoid.simmons/
Shop Evanston Made: Jevoid Simmons – Sugar Creek Folk Art

In the News:
'Art is how we have always moved people', Evanston Round Table, February 2022.
Up From Down Home: Talking with Local Artist Jevoid Simmons, Evanston Public Library, September 2021.
Local artist tells family migration story from Alabama to Evanston in 'Up from Down Home' exhibit, The Daily Northwestern, May 2019.