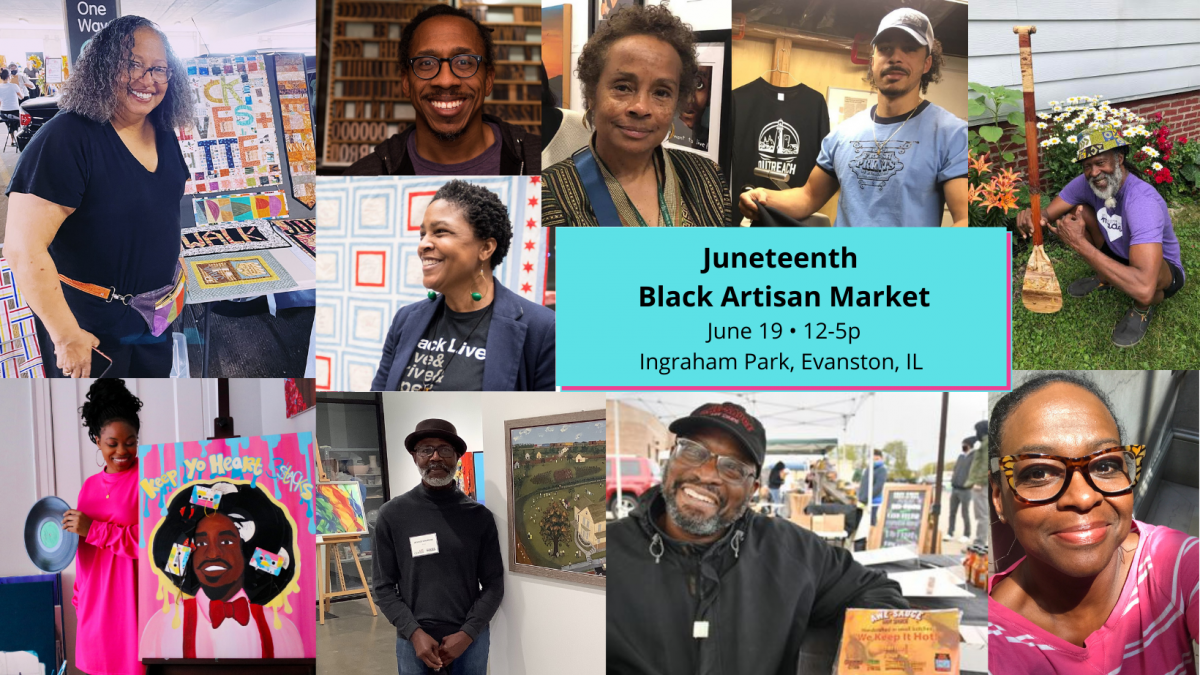 Juneteenth Black Artisan Market
Shop the Black Artisan Market this Saturday, June 19, at Ingraham Park, Evanston, during the Juneteenth Celebration! Meet the vendors and shop their goods. Free to attend and open to all! 
Evanston Present and Future in partnership with the City of Evanston present Evanston's Annual Juneteenth Parade and Celebrations on Saturday, June 19. Juneteenth – also known as Freedom Day, Jubilee Day, Liberation Day, and Emancipation Day – is a holiday celebrating the emancipation of those who had been enslaved in the United States. 
The event kicks off at 11 a.m. with the annual Juneteenth parade with Grand Marshals Cheryl Judice and Jason Powell. The parade begins in the parking lot at Robert Crown Community Center and ends at Ingraham Park. 
After the parade, enjoy musical entertainment, art, food and celebration at Ingraham Park until 5 p.m.
Click for Facebook event 
Artisans:
Angela Williams
Drawings and Paintings
Baz Cumberbatch
Nature Art 
Ben Blount
Letterpress Posters
Bryanna Christian Renee'
Paintings 
Cherie Lockett
Ceramics 
Jevoid Simmons
Prints 
Melissa Blount
Fiber Art 
Seth Simmons
Tee Shirts
Sharon Davis
Fiber Art, Wearables
Verzell James
Hot Sauce 
Tags In