True Grit Art Exhibition
July 1, 2022 @ 5:00 pm

-

July 31, 2022 @ 8:00 pm

Free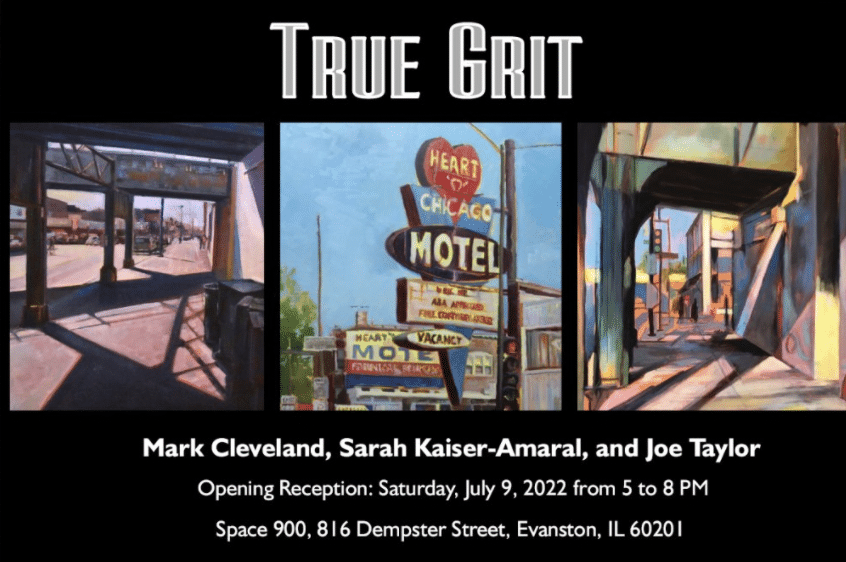 Space 900 Gallery
Opening Reception Saturday, July 9, 2022 5-8PM
Hours in July: Thursday to Sunday, 5-8 PM
Three contemporary landscape painters (Mark Cleveland, Joseph Taylor, and Sarah Kaiser-Amaral) take us on a journey out of the everyday and into the creative mind of an artist. Viewed together, their work captures common subjects others might gloss over: the fleeting play of light as it breaks over an edge, subtle colors in reflections, and pedestrians rushing by. While each artist takes on the rough, gritty textures of underpasses, back alleys, and iconic weathered signage, they are each distinguished by their unique approach.
Joe has a direct and painterly style, while Mark's more traditional underpainting and glazing techniques are reminiscent of stained glass. Sarah's focus is on beams of light that triumphantly break over walls covered in street art. Her focus on light floods colorful walls filled with hard-edged geometric forms.
In their combined exhibition this July at Space 900 in Evanston, they will invite viewers to slow down, pause, reflect—and take a second glance and embrace everyday scenes in urban and natural landscapes.
Related Events