Plein Air Works Exhibit at Backlot Coffee all June
June 7, 2022 @ 7:00 am

-

June 30, 2022 @ 5:00 pm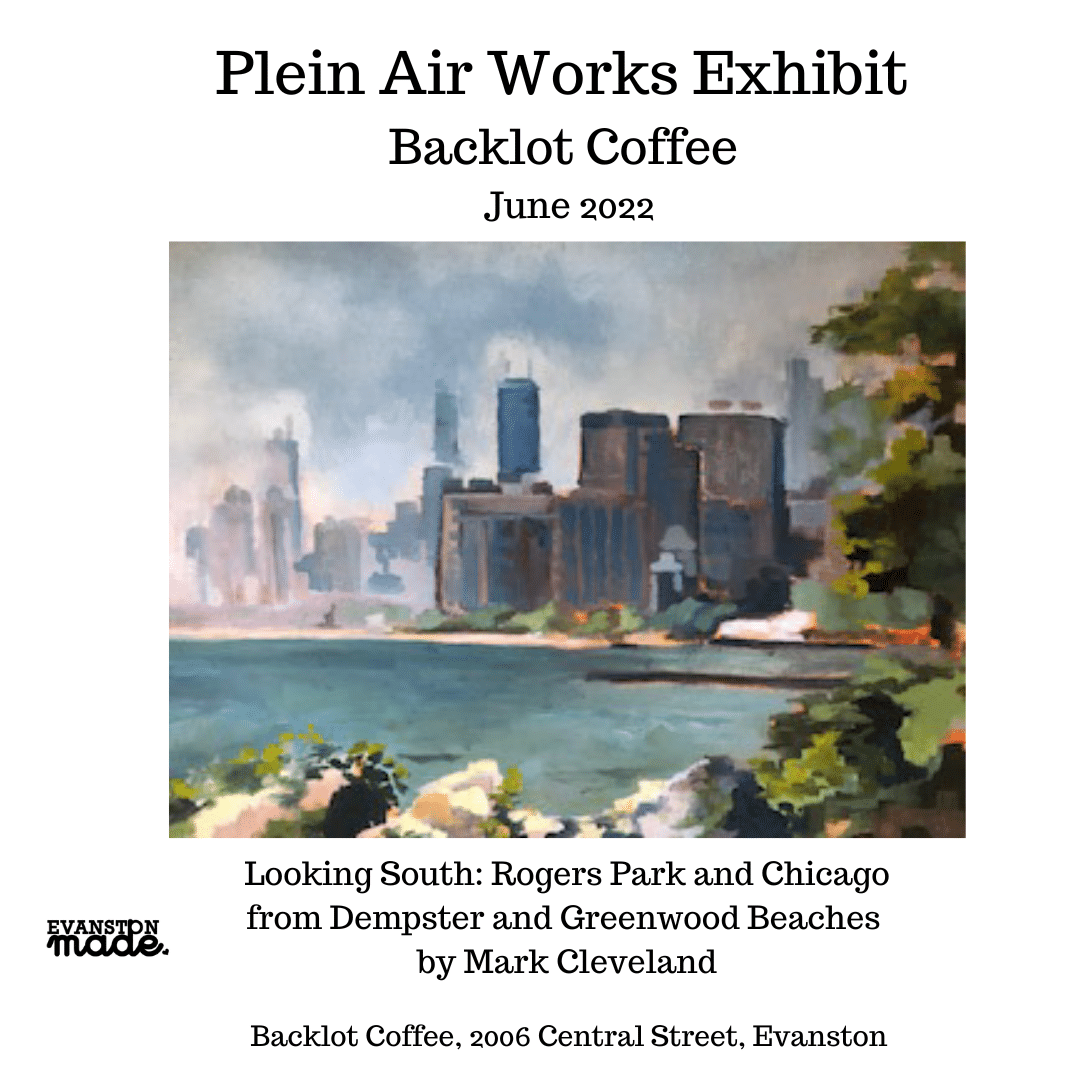 "Evanston Made presents" is pleased to partner with Backlot Coffee to present this preview from a few of the artists competing in the first Evanston Plein Air Art Festival,  July 14-17.
While "En Plein Air" painting is simply the act of painting in the outdoors, specific skills and techniques take years of practice to develop as demonstrated in the work shared with you by this group show. 
The Evanston Made Plein Air Art Festival is sponsored in part by the Evanston Arts Council, Downtown Evanston and Evansotn Made. Contact Evanston Plein Air Festival Director and Plein Air Painters Chicago Co-Chair Mark Cleveland at mark.cleveland@comcast.net 
This June see the following Artists on Exhibit at Backlot Coffee;
Mark B. Cleveland is a contemporary visual artist exploring the unique beauty and connection we experience with contemporary urban and natural settings. Cited for portraying a "masculine sensitivity" his Oil paintings echo the "Ashcan School" of Post-Impressionist American Art by portraying familiar and often gritty urban cityscapes. He is co-director of Plein Air Painters Chicago and Program Director for the Evanston Plein Air Festival. www.Markclevelandart.com
Barbara Kay Herring is a Chicago based artist, living in the Lakeview/Wrigleyville area. She received most of her training at the Drawing Workshop (formerly located in the historic Tree Studios) and the Palette and Chisel Academy of Art.  Barbara is currently a member of the Palette and Chisel Academy of Art, the Plein Air Painters Chicago (PAPC) and Urban Sketchers of Chicago.  She paints and sketches on site and studio.   Working primarily in oils, she also enjoys the versatility of working with watercolor, pens, and cold wax to capture the energy of a site, highlighting light/dark contrast and composition.  https://www.barbarakayherring.com
Laurie Kennard – Laurie is an experienced Plein Air painter working in Oil. Her work shows a mastery of the plein air technique and rich deep color values capturing the essence of Chicago urban scenes with reference to her formal training and commercial experience as a milliner and film creative.  A long-standing member and Co-director of the Plein Air Painters Chicago Laurie thrives in a wealth of relationships among members.  
Amanda Brodie Stenlund spends time walking along the streets (and shores) of both Chicago and South Carolina, where she considers ways to picture the moods of these places by looking at their landscapes, their people, their stuff, all their bits and pieces. A traditional, realist painter in oil and pastel, she focuses on composition first, then figuring out how to balance shape, value, color, line, texture, and negative space. It's a puzzle putting those elements together, and she loves puzzles. Since Stenlund began painting in high school, she has admired the colorful, bold styling of Wayne Thiebaud's work. https://www.amandabrodiestenlund.com
Robin Strand Robin Strand is a Chicago based artist who loves painting landscapes, animals, and on occasion, dream inspired imagery. She holds a degree in Art with a concentration in printmaking and art history. Further painting studies include the Art Institute of Chicago, American Academy of Art, and in Umbria, Italy. Robin is truly grateful for the boundless help and support of the teachers and friends at the Plein Air Painters of Chicago. She is co-author and illustrator of "Critterlandia", a book of whimsical poems and animal facts, available on Amazon https://www.robinstrandart.com/
Backlot Coffee is located at 2006 Central Street, Evanston.
Open Hours
Monday, 6:30AM–5PM
Tuesday, 6:30AM–5PM 
Wednesday, 6:30AM–5PM 
Thursday, 6:30AM–5PM 
Friday, 6:30AM–5PM 
Saturday, 7AM–5PM 
Sunday, 7AM–5PM 
Related Events