Me… Jane: The Dreams and Adventures of Jane Goodall
October 22, 2022 @ 7:00 pm

-

November 6, 2022 @ 4:00 pm

Varies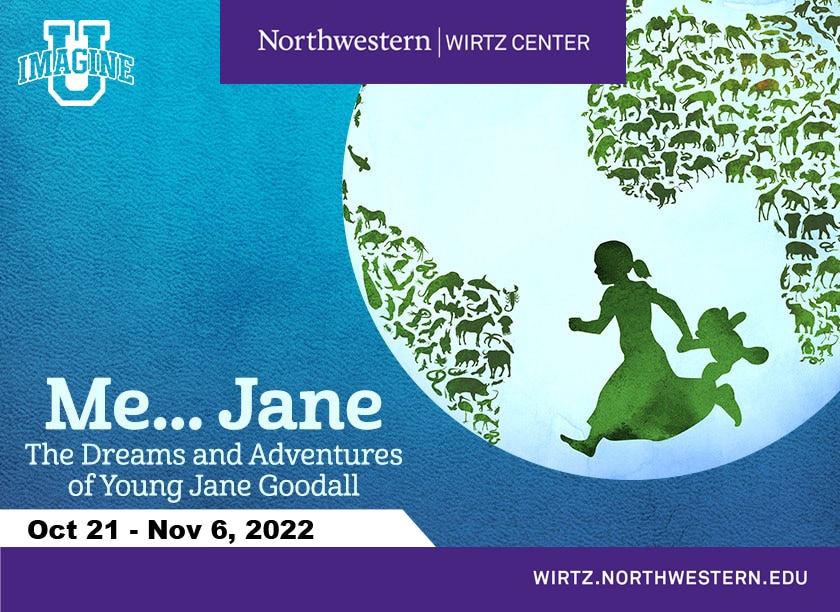 October 22 – November 6
Josephine Louis Theater
Friday, October 21 – 7:00 PM
Saturday & Sunday – 2:00 PM
Imagine U's "Me…Jane: The Dreams and Adventures of Young Jane Goodall" is adapted by Patrick McDonnell and Aaron Posner (C '86) from McDonnell's book and features music and lyrics by Andy Mitton. Northwestern theatre professor Rives Collins directs. The production is recommended for audiences age five and up.
Before she became a renowned humanitarian, conservationist and animal activist, Dr. Jane Goodall was a little girl with a special toy chimpanzee named Jubilee. Together, Jane and Jubilee discover the miracles of nature on their shared outdoor adventures, and young Jane imagines spending the rest of her life helping animals in Africa. Later, she will do just that! In this musical adaptation, join young Jane and her special friend as they learn about the world around them and the importance of protecting all living species.
"Me…Jane" was commissioned by the John F. Kennedy Center for the Performing Arts and was first produced at the Kennedy Center during the 2017-18 season
During the show's run, approximately 800 third-graders from Evanston/Skokie School District 65 will view the performance as part of a new partnership between Northwestern University and District 65 schools to bring live theatre to community youth. For more than a decade, the Wirtz Center at Northwestern has presented Imagine U's popular performance series created especially for families with young children.
Patrons can 
purchase a Wirtz Center FLEXPASS
for $115, allowing one admission to any six 2022-23 productions including The Waa-Mu Show. The Wirtz Center FLEXPASS can be purchased until December 31, 2022, and may be redeemed for six tickets to one performance, two tickets to three performances, or any other combination during the 2022-23 Season. You may redeem any ticket(s) in your Wirtz Center FLEXPASS immediately, or you may wait and make your reservations later in the season. It's entirely your choice!
Single tickets will go on sale Tues., Sept. 20.
Single Ticket Pricing
General Public – $15
Full-Time Students and Kids – $12
Full-Time NU Students $6 in advance, $10 at the door
A per ticket service charge will be added to all online ($3 per ticket) and phone ($2 per ticket) purchases.
The Wirtz Center will continue to work with our health and safety specialists to evaluate and alter our plans as necessary. We are committed to keeping you informed and encourage you to learn more about 
our latest health and safety guidelines
.
Your seat is waiting; we look forward to welcoming you back!
Related Events