March Art & Wine Night
March 4 @ 4:00 pm

-

6:00 pm

Free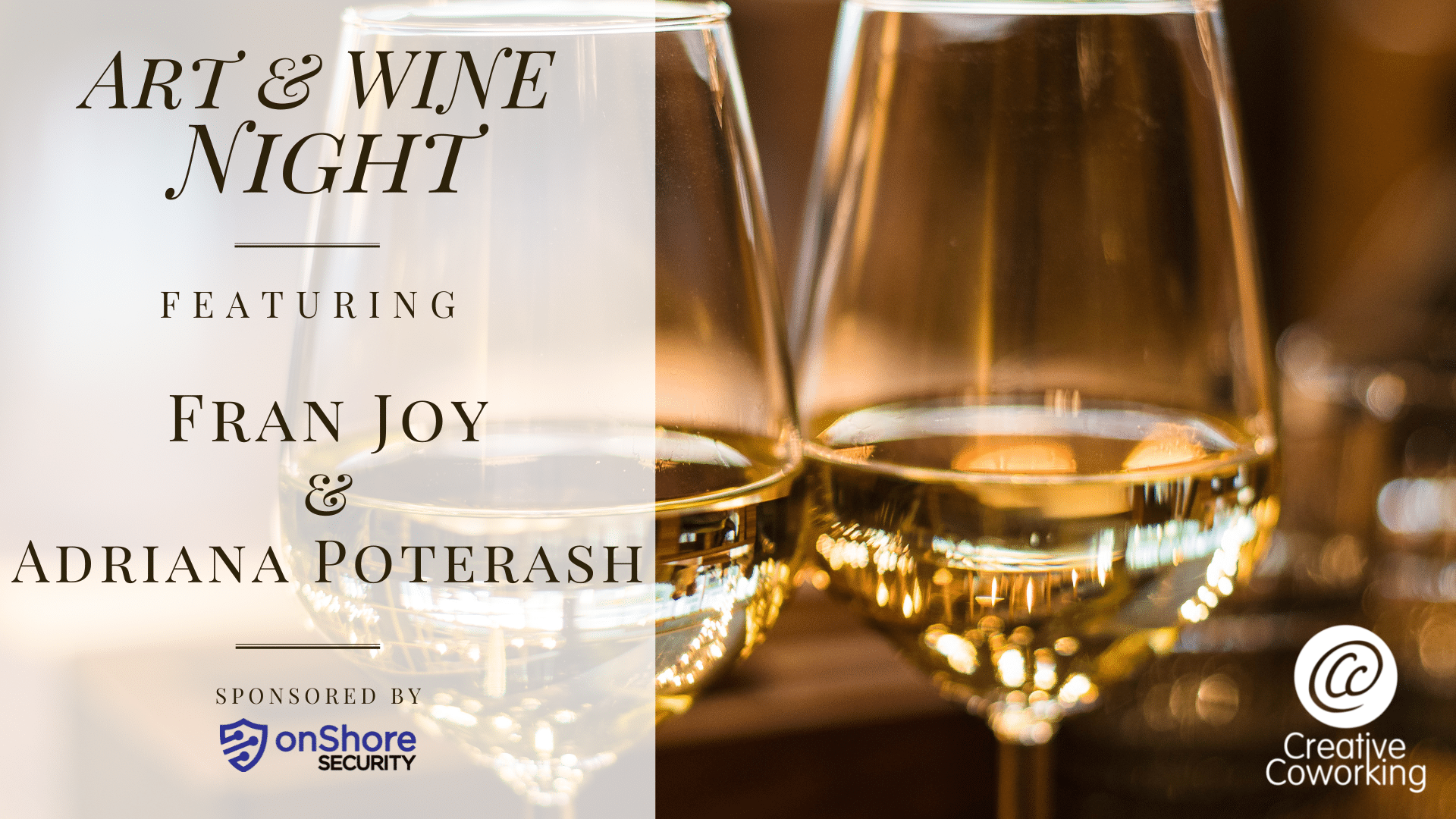 Three floors of artwork for sale │Come out to see great art by 40+ local artists, have a drink AND meet the artists! RSVP here.
Sponsored by OnShore Security, this month's free event features a new exhibit by:
Fran Joy
and
Adriana Poterash
————————————————————————————————-
+ RSVP recommended, but not required
+ small bites and beverages provided
Fun Fact: With over 150 works on display, Creative Coworking never takes a commission: 100% of the selling price goes directly to the artists.
Ongoing exhibitions by these fine Evanston & Chicagoland artists:
Liz Albertson • Jerry Alt • Sofia Ansaldo • Shellie Argeanton • Raissa Bailey • Svetlana Baklanova • David Bender • Michael Berns • Annelise Bronsveld • Jaimie Brunet • Amethyst Canady • Iliana Cardona • Molly Cranch • Melanie Deal • Laura Engel • Larry Geni • Ted Glasoe • Heather Hancock • Rebecca Hill • Jasmin Hislop • Fran Joy • Sarah Kaiser-Amaral • Sarita Kamat • Bonnie Katz • Virginia Kondziolka • ITALA • Elisa Ann Lindstrom • Rhonda Long • LP Lundy • Christine McClure • Amee McCoughan • Paul Minnihan • Kristen Neveu • Jim Parks • Annette Kerstin Patko • Ayla Pizzo • Adriana Poterash • Ron Rutkowski • Barbara Seyfried • Robert Shiverts • Rich Sparks • Kyriakina Valavanis • Bruce Lee Vernon • Komal Wadhwa • Maike van Wijk • Jon Whitfil • Daryl Wilkerson, Jr • Jerry Woods
Related Events