Get Down for Good
June 14 @ 7:00 pm

-

9:00 pm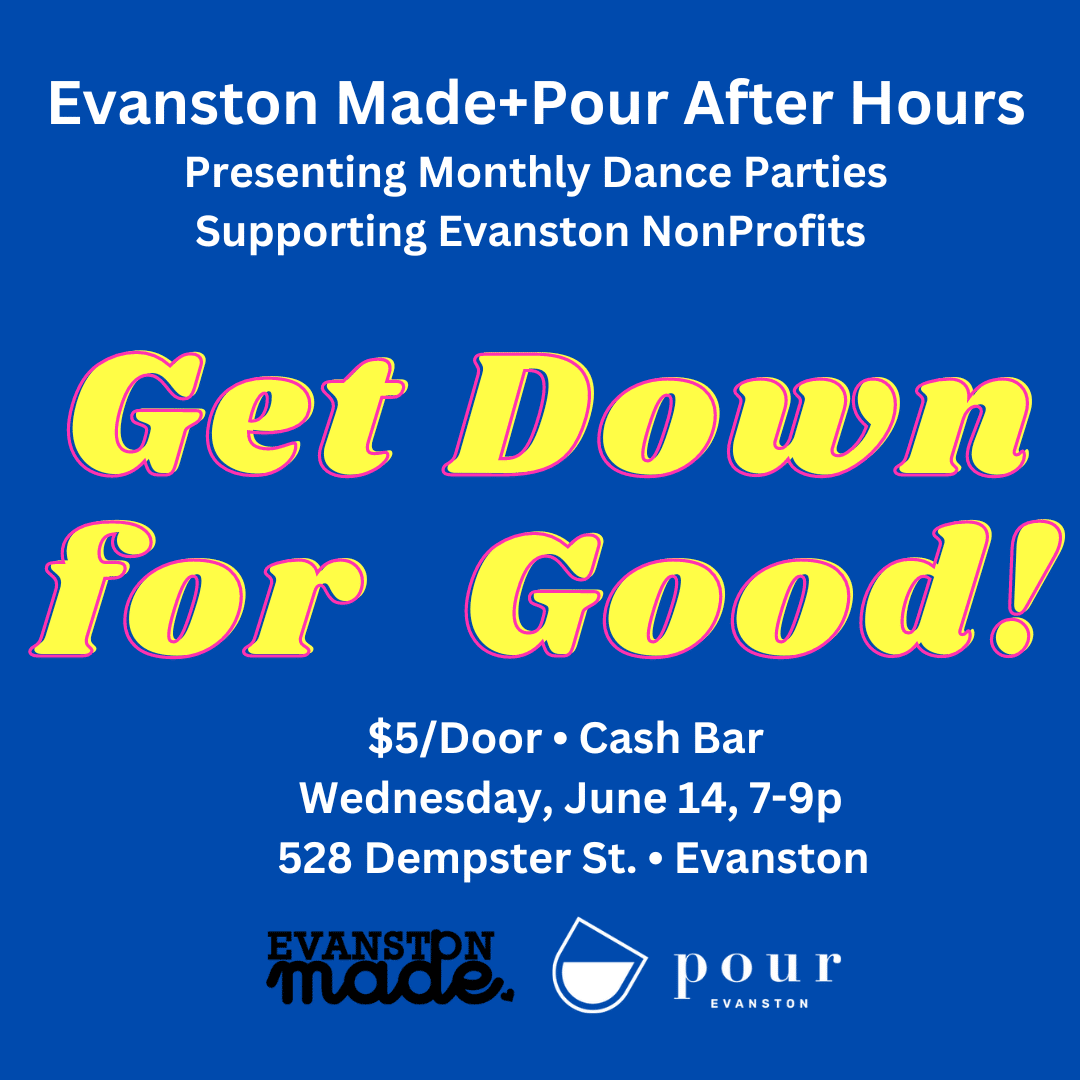 Evanston Made+Pour After Hours: Get Down for Good!
Evanston Made+Pour present After Hours, a series of monthly evening events in 2023 that celebrates community and benefit local nonprofits.
Please join Evanston Made+Pour to get DOWN for a good cause!
Come dance, mingle, and support an Evanston based non-profit with your $5 donation at the door.
Each month, Evanston Made+Pour will throw a dance party for a local nonporfit organization, who will receive 100% of the Door Donations!
$5/Donation at the Door• Cash Bar FUN(draiser) for: Evanston Made Wednesday, June 14, 7-9p 528 Dempster St. • Evanston
Reach out to info[at]evanstonmade.org with questions
About Evanston Made
Evanston Made is a membership based, nonprofit arts org, that creates innovative programs and events that promote a thriving arts community. Learn more at evanstonmade.org
Evanston Made is a 501(c)3 non-profit arts organization and your support is important and impactful for the work we do in capacity building and raising visibility for the artists in our community. All contributions to Evanston Made are tax-deductible to the extent permitted by law, tax identification number: 84-3971750. INFO evanstonmade.org
About Evanston Pour
Evanston Pour offers casual service  in a sophisticated setting. A cheery hub where you go to grab your daily latte and scone, it transforms in the evening to a swanky spot where you will love to linger over a shared charcuterie board and bottle(s) of wine with friends. Our menu of small bites and fresh pastries is thoughtfully curated with simplicity in mind, and pairs perfectly with our locally sourced coffee, tea, beer, and approachable wine selections. 528 Dempster St. INFO evanstonpour.com
Related Events