Freedom Exhibit Artist Talk
February 22 @ 6:00 pm

-

7:30 pm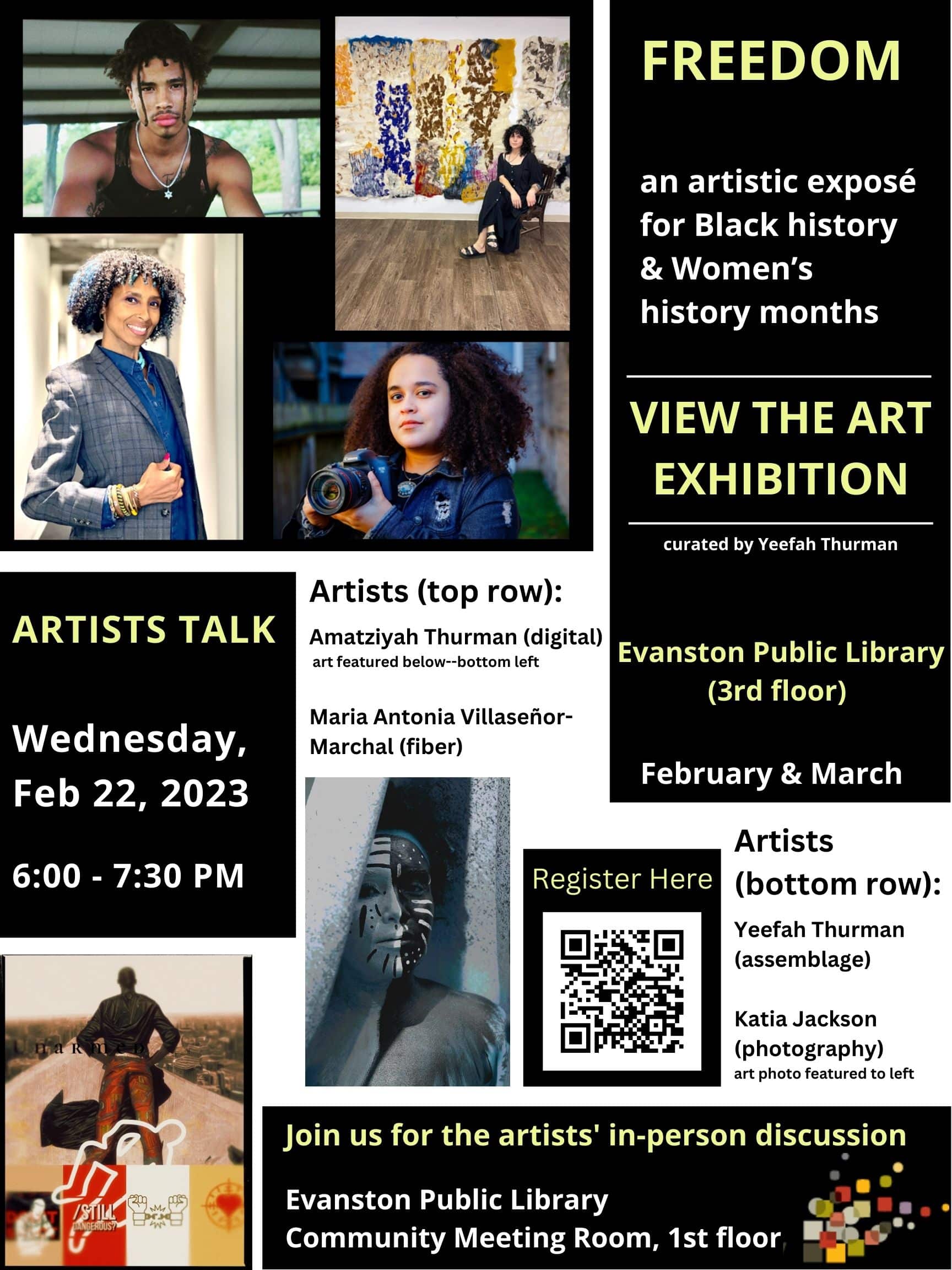 Join artists Amatziyah Thurman, Katia Jackson, Maria Antonia Villaseñor-Marchal, and Yeefah Thurman as they discuss Freedom – an artistic exposé at EPL for Black history and Women's history months.
View the Art Exhibition from Feb 1- March 31 at the Main Library, curated by Yeefah Thurman.
---
ARTISTS:
Amatziyah Thurman (digital)  (image upper left)
Artist Bio: Amatziyah Turman is an emerging outsider artist who grew up in Evanston Illinois. He first began making art in 8th grade as a way to express his difficulties in school. Art became something that was constant in his life the way others might use a journal. In the last three years he felt called to make art professionally and has spent hours creating and finding his artistic voice. Currently, he works with digital applications adding elements of acrylic gel and paint. This is his first exhibition.
Artist Statement: My work is an expression of my inner world. I was plagued with designless images that would occur and show up time after time   inside some of the most odd objects. I would make out faces inside of blank walls and weird figures that would pop up out of tiles in the floor, trees on the sidewalk and patterns inside of the carpet. These images seemed to haunt me. Studying the images compels me to work at bringing them to life, giving them a voice and allowing the figures to be seen by everyone.
---
Katia Jackson (photography) (image lower right)
Artist Bio: Katia Jackson is a Chicago based photographer who has been honing her craft since 2019. A Chicago native, she focuses her lens on capturing the city's vibrant arts scene with the belief that local artists of all kinds display the importance of creativity and diversity. The Black Lives Matter protests of 2020 guided her lens in the direction of social justice and sparked the interest of pursuing a career in photojournalism. She has noted Gordon Parks and LaToya Ruby Frazier as major inspirations while cultivating her own artistic vision. Photography has allowed her to explore her voice and creative outlet.
Artist Statement:  I am in bloom as an artist; January marked four years since I began my journey as a photographer. My work up until this point has been rooted in evolution and growth. Photography is my medium of self-expression that allows me to cope with the human experience and capture life's fleeting moments. My artistic style has developed into a multitude of approaches from journalistic to using elements of abstraction and digital alternative processes. Themes of racial justice, identity, and family are concepts that I frequently explore within my photographs. I see my camera as an extension of myself, photography is how I process my personal narratives and those of my community; the images I have selected to be a part of "Freedom" are a visual representation of what freedom means to me. My protest photos depict the turbulent summer of 2020 and the ongoing fight for equality. My portraits symbolize individual liberation and connection with self-discovery. Through usage of layering techniques, collage, documentation, and portraiture; my work highlights the many facets of the Black experience.
---
Maria Antonia Villaseñor-Marchal (fiber) (image upper right)
Artist Bio: María Antonia Villaseñor-Marchal is a Chicago based, Latinx and Indigenous artist and educator. Through her work, she melds traditional craft techniques (beading, weaving, and embroidering) with her education in fashion design to create abstract, woven, and fully felted work that confronts issues of identity, trauma, social justice, and the environment. Maria earned her MDes -Fashion, Body, and Garment, mentored by Nick Cave, from the School of the Art Institute of Chicago in 2020. Her thesis work earned her a Fellowship from the Luminarts Cultural Foundation anda solo exhibition at FACILITY (Chicago, IL). Maria has established an independent studio in Evanston, IL  (@studiomavm), where she continues to grow a sustainable arts practice through her collaboration with a network of fiber farms allowing her to focus her work on the cultivation and care of animals and plants indigenous to the Western Hemisphere. Maria has recently been awarded a residency through the Chicago Artist Coalition's HATCH program.
Artist Statement: As a child, I used my imagination to cope with what was confusing, isolating, and traumatic by escaping into fantasy worlds. As an indigenous trans woman, I feel that my reality is constantly in flux, and escape is always necessary, particularly in today's political and social climate. My childhood fantasies helped me to survive. Through the decolonization of craft techniques and the utilization of ethically sourced natural fibers indigenous to the Western Hemisphere, I continue having conversations with my childhood fantasy worlds through soft sculpture, weaving, fiber painting, textile installations, drawing, and collage. My work transports viewers and wearers into their unique fantasy worlds through the use of found, unconventional, and manipulated materials–mainly, fully-felted custom textiles and embellishments I create. Abstraction through an indigenous, trans, queer lens will encourage viewers to consider issues of cultural, social, spiritual, ecological, and political importance and, I hope, help them cope with their real lives regardless of perceived differences. Despite the fantastical nature of my work(s), I focus on using animal protein fibers (alpaca, bison, and wool) and crafting techniques traditionally assigned to women in indigenous societies. I hope these processes ground the work solidly in the artistic and social context of my own life and the lives of my ancestors.
---
Yeefah Thurman (assemblage)  (image lower left)
Artist Bio: Yeefah Thurman is an Evanston based multi-media assemblage artist and educator. She was raised in a home filled with art from the African diaspora and parents who encouraged her artistic talents. By high school she was accepted into the famous Fiorello H. LaGuardia High School of Music & Art and Performing Arts but for most of her adult years art took a back seat to family life. In her 40's a nagging desire to make art pushed her to pick up a camera. In 2010 she was accepted as a mentee to renowned photographer Jules Allen. She's an advocate for public art and currently has an installation piece in situ since 2020. In 2021 she was awarded an artist residency in Mexico to research Afro Mexicans. Last year she was awarded an art grant from the city of evanston: she co-created a cross-cultural art curriculum and hosted an art residency for middle schoolers. Yeefah maintains a studio in Evanston.
Artist Statement: My work evolves from my interest in the human condition as it relates to culture, identity, equity, behavior, belonging and social norms. I have this nagging need to investigate these topics and tell visual stories about them from a socio-human perspective. I use photography, video     and other mediums such as paper and wood to tell narratives unlike the        dominant social structure. Africans in the diaspora and my own lived experience are my focuses. Exploring and questioning the limited view dominant      cultures have of the underrepresented is paramount to my storytelling. I hope my work sparks something in the viewer and encourages them to think, see and feel differently about others; and maybe take action to make  a change in the world – large or small. In my work I am looking to highlight that our experiences can be expanded If we look into the world of someone very different from ourselves. I'm suggesting the viewer reflect on their own limited view and be open to break barriers with what they've learned. I believe our shared humanity is better understood when we experience  narratives about cultures different from our own.
Related Events