First Saturdays Evanston
October 2 @ 10:00 am

-

9:00 pm

|

Recurring Event

(See all)

One event on September 25, 2021 at 10:00 am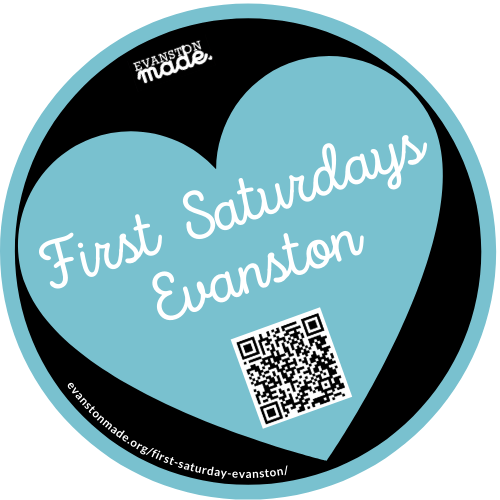 First Saturday Evanston Art Events, Oct. 2, invite the community to explore Evanston's Creative Community. Use this handy Google Map to plan your art-filled day!
Maker's Market
•Maker's Market, 1800 Maple Ave. Parking Garage, $5 suggested donation at the door! 12 -5p. The first 150 people who purchase a ticket to shop will receive one free SWAG bag full of Evanston Made member goodies! Click here to buy tickets to shop!
Film
•Land of Dreams: A short film by Jane Fulton Alt and Jeff Phillips. Corner of Orrington Avenue and Haven St., 7 – 9 p.
Artists Studio Tour, 12-5
•Click here to RSVP to receive Map of studios, this is a two day event, Oct. 2 & 3
Carol Hammerman, 1119 Hinman Ave. 

Julie Cowan, 1121 Ashland Ave. 

Rita Shimelfarb, 1122 Dewey Ave. 

Ben Blount, 1123 Florence Ave. 

Bonnie Katz, 1132 Florence Ave.

Jayne Lilienfeld-Jones, 1711  Darrow St., Unit 2 

Nancy Zwick, 1711 Darrow St., Unit 2 

Jaimie Brunet, 1711 Darrow St., Unit 2 

Ross Martens, 1712 Sherman Ave., #2 

Nina Weiss, 2113 Greenleaf St., Ste 9 

Peter Jablokow, 2457 Prairie Ave. #1D 

Kristen Neveu

, 605 Dempster St. 

Angela Lyonsmith,617 C Grove St.

Sarah Kaiser-Amaral, 927 Noyes St., Studio 215 

Jennifer Presant, 927 Noyes St., Studio 217 

Jill King Wynn, 927 Noyes St., Studio 217 

Socorro Mucino, 927 Noyes St., Studio 220
Terrain Art Installations & Events
•Click here for map
Art Exhibits and Openings
•James Deeb, SPACE900, 816 Dempster St., 12-5p
•Deborah Newmark, Village Farmstand, 810 Dempster St., 10a-3p
•Comfort Women Exhibit and Installation by Rose Camastro-Pritchet, 1100 Florence Avenue, 12-5p
•Karen Bermann-Mazibuko Photography, Backlot Coffee, 2006 Central St., 7a-5p
•Julie Meridian – Specimens Exhibit Opening, Cultivate Urban Rainforest & Gallery, 5-7p
•Wholeness , Annette M. O'Donnell. Open Studio Project, 901 Sherman Ave., 3-5p
Shop our Partners!
•Artem Pop Up Gallery, 1627 Sherman Ave., 11a-6p
•Stumble & Relish, 1312 Chicago Ave., 11a-5p
•Nice Lena & Friends, 1235 Chicago Ave., 11a-5p
•Alley Gallery, 1712 Rear 2, Sherman Ave, 10a-4p
•Ayla's Originals, 1511 Sherman Ave, 11a-4p
•RetroFit, 1620 Greenleaf St., 12-5p
•Kombucha Brava, 717 Custer Ave., 10a-3p
•Modern Vibe, 611 Dempster St., 11a-4p
•Coffee Lab, 910 Noyes St., 8:30a-6p
++++
Make a Donation to Evanston Made! Any amount helps!
First Saturday Art Events are hosted by Evanston Made, a 501(c)3 nonprofit arts organization with the mission to connect Evanston creatives to the public through programming and events. Your donation helps make events like this possible, free and open to the public. Donate here, any amount helps, evanstonmade.org/donate/
Related Events