First Saturday Evanston Art Events
June 4 @ 9:00 am

-

9:00 pm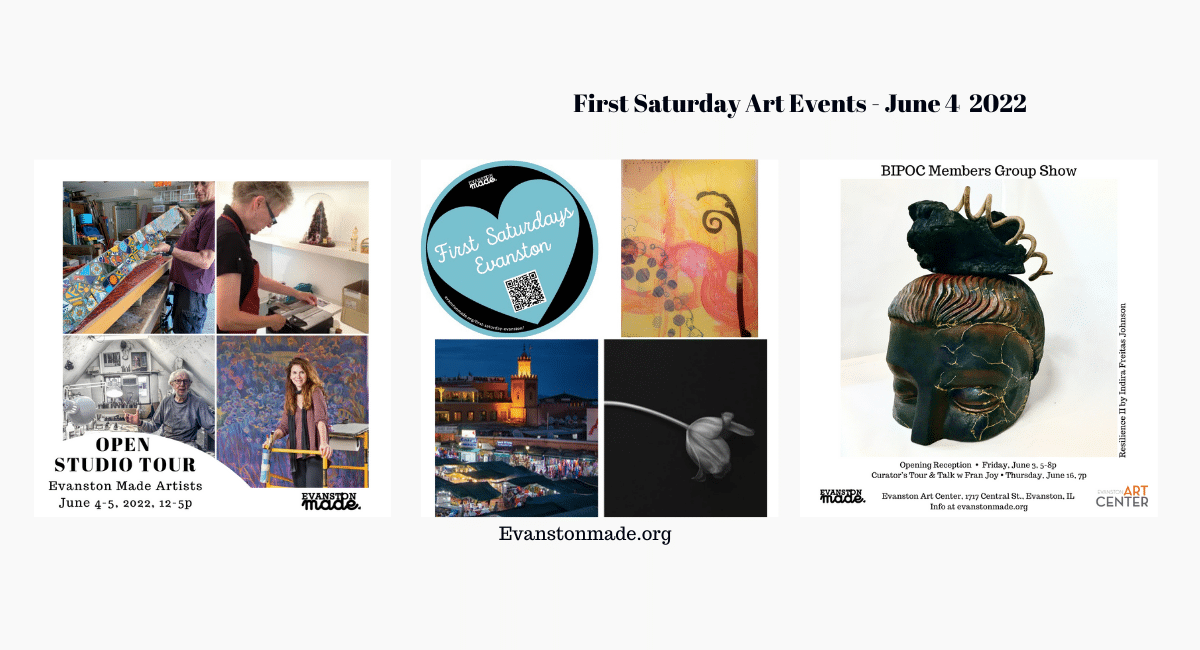 Explore Evanston's thriving arts community during Evanston Made's First Saturday Evanston Art Events! Enjoy art openings, pop ups, public art w this handy Google map http://ow.ly/ylSA50Iuozy #evanstonmade #visitevanston
Studio Tour. Click here for a list of participating artists on the Studio Tour, June 4, 12-5p
West Village First Saturday Art Events 
everything must go! fundraising art exhibit, 1100 Florence Gallery, 1100 Florence Ave., 12-5p

Licky Lab & Alpaca Free Little Art Gallery, 1227 Dewey Ave., all day viewing

Enigmatic Waters. Xiao Space Gallery, 1522 Greenleaf St., June 4 and 5, 12-7p

Judith K Lewin Open House, 1127 Florence Ave., 12-5p 
Emerson/Dodge
Patrick Duncan Open Studio, 1731 Dodge, 12-4p

Strange Art Studios, 1711 Darrow, Unit 2, 12-3p
Downtown Evanston First Saturday Art Events 
Exhibits at Galleries
A Site of Struggle: American Art against Anti-Black Violence, Block Museum of Art, Northwestern Campus, 40 Arts Circle Drive, 12-5p

Artist Talks with ITALA (painter) and James Merriner (photographer), Creative Coworking, 922 Davis St., 2-4p
Open Houses, Studios
Open Studio with Kids Create Change, Studio3, 617C Grove St., All Ages, Free, 10a-12p
Shop Evanston Made Partners
Alley Gallery, 1712 Rear 2, Sherman Ave, 10a-4p

Ayla's Originals, 1511 Sherman Ave, 11a-4p

Artem Pop Up Gallery, 1627 Sherman Ave., 11a-6p
Food & Drink 
Table23 Fundraiser at Koi! Koi Evanston's "Table23" donates 23% of the total check to a local non-profit. Dine in: reserve table23 at one of these times; 4:30p, 6:30p or 8:30p, call (847) 866-6969 or Via

Resy.com

, a percentage of the bill will go to Evanston Made! Be sure to say "table23" and "evanston made"! For takeout phone orders, simply mention to the host "Evanston Made". For takeout online orders,

click on the "Table23 Charity"

and pick Evanston Made! 
Main Dempster Mile First Saturday Art Events 
Food & Drink
Visit Evanston Pour and enjoy delicious small plates, coffee drinks and adult bevvys, mention "First Saturday"! 10% of sales will go to Evanston Made! 528 Dempster St., 8a-9p
Sketch at Sketchbook
Gather at Sketchbook Evanston and discover the joys of sketching with a beer in one hand, pencil in the other. Guest Artists will be on hand with sketching tips. Free event with free art materials. Sketchbook Brewery, 821 Chicago Ave., 1-2:30p
Exhibits at Galleries
Kambua Chema and Suzanne Metzel. Perspective Photo Gallery, 1310 Chicago Ave. Opening 5-7p

Essence of Nature, SPACE900, 816 Dempster St., 12- 8p
Pop Ups
FRIEND SHOP Pop-Up Artisan Market, Trapdoor, 1303 Chicago Ave. 12-6p

Featuring Works from Evanston Artist Martin Hurtig, Modern Vibe, 611 Dempster St., 12-3p
Art in Venues
Ben Blount Prints, Wine Goddess, 702 Main St., 12-9p

Bonnie Katz, Village Farmstand, 810 Dempster, 10a-5p

Cie Bond. Evanston Pour, 528 Dempster St., 8a-9p
Shop Evanston Made Partners
Kombucha Brava, 717 Custer Ave., 10a-3p

Nice Lena & Friends, 1235 Chicago Ave., 11a-5p

Secret Treasures, 605 Dempster St., 11a-3p

Stumble & Relish, 1312 Chicago Ave., 11a-5p
Central Street First Saturday Art Events
Exhibits at Galleries
Reclaiming Cultural Treasures, Mitchell Museum of the American Indian, 3001 Central St., 10a-5p

Evanston Made BIPOC Members Group Show, Evanston Art Center, 1717 Central St., 9a – 4p

Marjorie Davidson, Prairie Avenue Artsy Card Shop, 2601 Prairie Ave., 12-6p

Aydin Dincer, Prairie Joe's WEST, 2608 Prairie Ave., 12-5p
Art in Venues
Backlot Coffee, 2006 Central St., 7a-5p

John Liberty, Gracie's 1939 Central Street
Noyes St.
Larry Lundy Retrospective, Second Floor Gallery, 927 Noyes St., 12-5p

Coffee Lab, 910 Noyes St., 8:30a-5p
Evanston Made 
Evanston Made is a membership-based 501(c)3 nonprofit arts organization in Evanston, IL. with a mission to connect artists and artisans to art enthusiasts and also to provide community and professional development to our members to further their careers. Membership is open to artists, artisans, makers who make everything from art to clothes to music. We also welcome members who are art lovers and patrons who want to help us carry out our mission. Learn more at evanstonmade.org EIN# 84-3971750
Support Evanston Made and Make a Donation Today!
Evanston Made is a 501(c)3 nonprofit arts organization with a mission to create engagement between Evanston's thriving creative community and the public. If you are able, please help support our programming by making a donation, any amount helps. Visit evanstonmade.org/donate/
Related Events