Evanston Plein Air Festival
July 14, 2022

-

July 17, 2022

free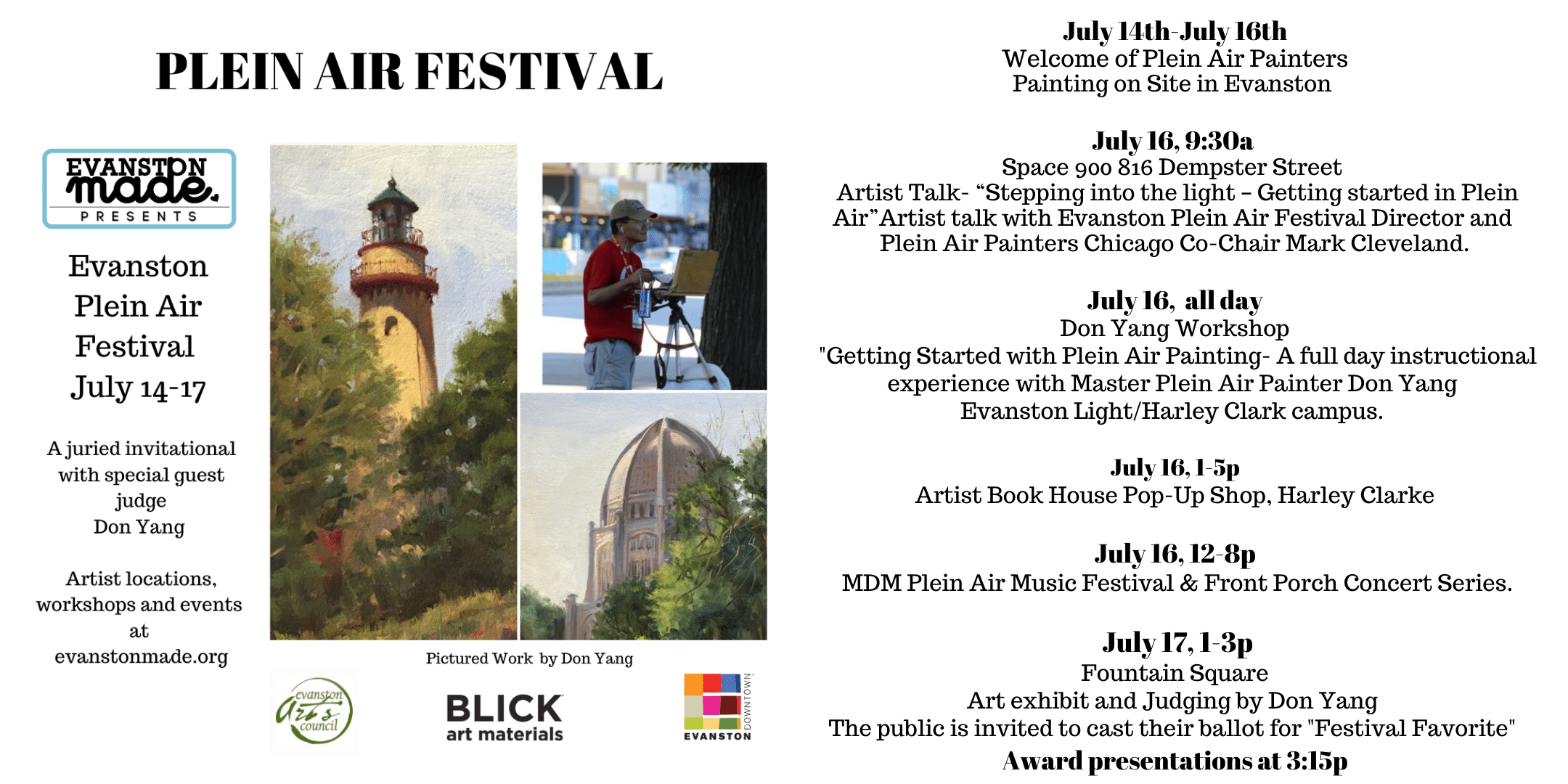 The community is invited to watch Plein Air Artists capture the beauty of Evanston, purchase art and judge works on the final day of the festival.
The festival takes place over 4 days and follows the general approach familiar to artists participating in local "Plein air "events in the area. Join us at Fountain Square in Downtown Evanston, Sunday, July 17, 1-3p, for Judging followed by Awards and Artist Reception 3-5p.
July 10-16, competing artists will check-in, authenticate up to 5 blank work surface(s) and paint at locations across Evanston. Use the Google Map to find painters. Follow @evanston_made on Instagram and Facebook for locations to see and meet painters, follow #evanstonpleinairfest 
Special Events 
July 16, 9:30a, Space 900, 816 Dempster St.,

Artist Talk- "Stepping into the light – Getting started in Plein Air"

with Evanston Plein Air Festival Director and Plein Air Painters Chicago Co-Chair Mark Cleveland.

July 16, 12-8p,

MDM Plein Air Music Festival & Front Porch Concert Series

, 600 Main Street Train Station Alley.

July 16, 9a-4p,

Don Yang and Plein Air Painters at Grosse Point Lighthouse

, Lighthouse Beach Evanston, 2603 Sheridan Rd.

July 16, 1-5p,

Artist Book House Pop Up Shop

, Harley Clarke Mansion, Lighthouse Beach Evanston, 2603 Sheridan Rd.

July 17, 1-3p, Plein Air Artists Exhibit and Art Sale

at Fountain Square in Downtown Evanston.

July 17, 3-5p,

Festival Judging, Awards and Artist Reception,

at Fountain Square in Downtown Evanston.
2022 Evanston Plein Air Festival Participating Artists:
Kerstin Alischowewski•Scott Lloyd Anderson•Karen Beauprie•Christina Body•Liz Brent•Jaimie Brunet•Pat Brutchin•Kimberly Burnett•Anna Cherkashina•Chloe Chow•Muriel Christensen•Mark Cleveland•Maureen Crowley•Majorie Davidson•Maria Delton•Zarina Docken•Sue Dunmore•John Fleck•Joseph Frey•Chris Froeter•Denise Grossman•Barabara Herring•John Herron•Kuhn Hong•Pricilla Huang•Peter Jablokow•Sarah Kaiser-Amaral•Julie Keating•Laurie Kennard•Richard Laurent•Sachin Mehta•Allison Neggers•Carol Neiger•Deborah Paige-Jackson•Christie Patterson•Joe Patterson•Alvino Perez•Julie Porter•Emmy Savage•Jane Sloss•Ann Spletz•Amanda Brodie Stenlund•Robin Strand•Joseph Taylor•Malik Turley•Willian Turley•RL Weber•Amy Williamson•Jill Zylke 
3 ways you can help make this first annual event a success;
RSVP

for free and receive event updates.

Volunteer

to help make this event a success.

Donate

any amount to support this event! 
Press: Read about this event in the Evanston RoundTable here.
Missed the deadline to register? Fill out this contact form to receive notification of Evanston Plein Air Art Festival 2023! 
***
Evanston Made Plein Air Art Festival is sponsored in part by the Evanston Arts Council, Downtown Evanston with Evanston Made. Contact Evanston Plein Air Festival Director and Plein Air Painters Chicago Co-Chair Mark Cleveland at mark.cleveland@comcast.net  or Evanston Made at info@evanstonmade.org
Evanston Made is a membership-based 501(c)3 nonprofit arts organization in Evanston, IL, with a mission to connect artists and artisans to art enthusiasts and also to provide community and professional development to members. Membership is open to artists, artisans, makers, who make everything from art to clothes to music. We also welcome members who are art lovers and patrons, who want to help us carry out our mission. Support our work and make a donation of any amount, evanstonmade.org/donate/ 
Related Events