Evanston Made Studio Tour on Saturday, June 3, 12-5p
June 3 @ 9:00 am

-

8:00 pm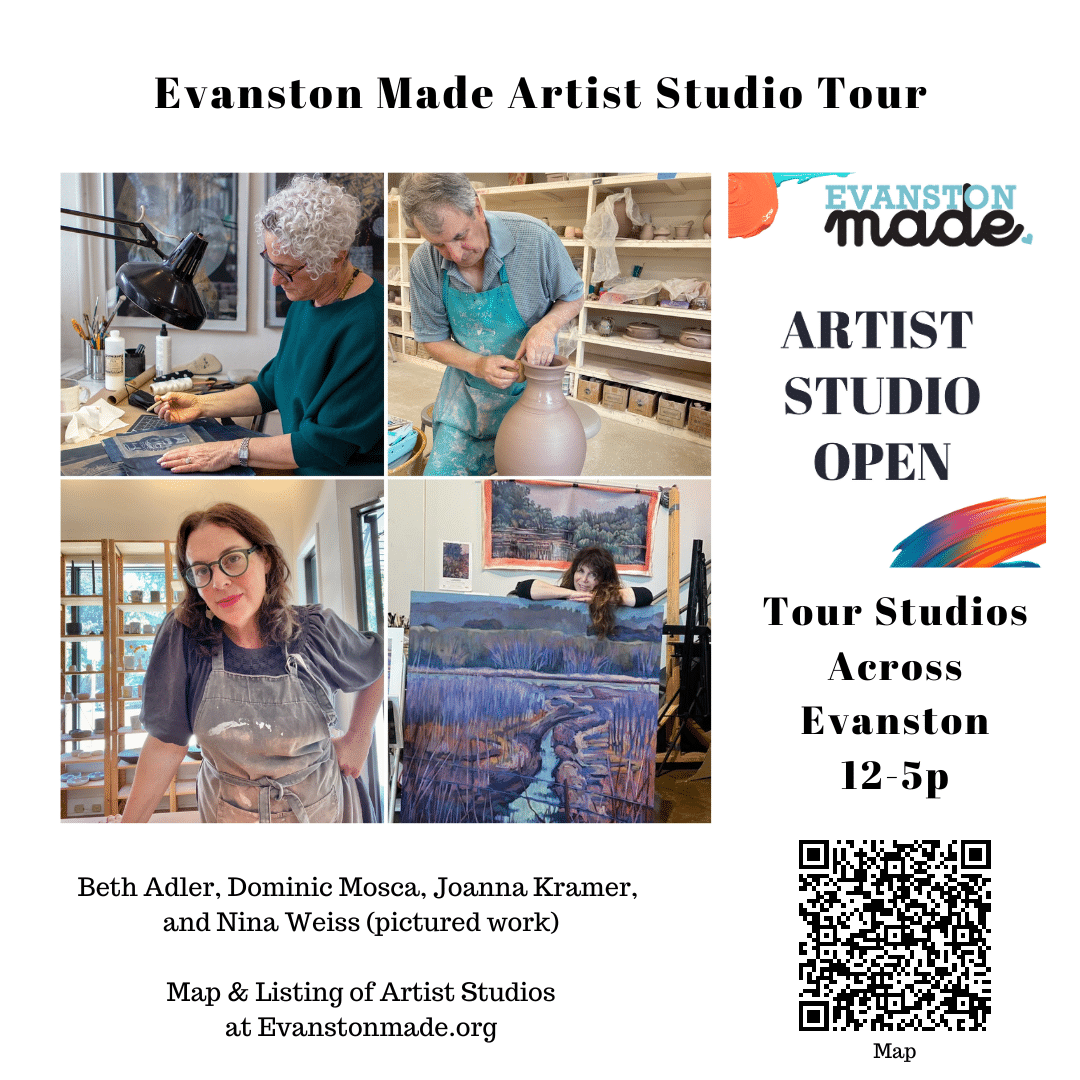 This is a fantastic event to start your Evanston Art Collection! Meet artists in their studio, learn about their practice and shop for art. The Studio Tour Map is available at artist studios and on Google here.
Participating Artists
Artist Studios are open Saturday, 12-5p, and can be located throughout Evanston inside attics, garages, coach houses and more! 
List of participating artists below;
MAIN DEMPSTER MILE
Dominic Mosca, 1224 Chicago Ave.,101 
DOWNTOWN EVANSTON
Sarita Kamat, 1627 Sherman Ave.
NOYES CULTURAL ARTS BUILDING • 927 Noyes St.
Zafar Malik, Studio 214 

Sarah Kaiser-Amaral, Studio 215 

Jill King, Studio 217 

Socorro Mucino, Studio 220 

Jennifer Presant, Studio 217 

Anne Sills & Tracy Burns, Studio

B10A
WEST VILLAGE
Mary Graham, 1209 Lee St. 

Joanna Kramer, 1400 Greenleaf St.

 

Darin Walsh, 1516 Greenleaf St.  

Rachael Posnak, 1522 Greenleaf St

.

Beth Adler, 1125 Florence Ave.

Mardy Sears, 1125 Florence

Ave.

Judith Lewin, 1127 Florence

 

Bonnie Katz, 1132 Florence Ave.

Julie Rivera, 1618 Dempster St.

Melissa Blount, 1811 Greenwood St.

Barbara Ruiz at RetroFit, 1620 Greenleaf St.

Nina Weiss, 2113 Greenleaf St., Ste 9 

Alice George, 2308 Lee St.

David Rubman, 2308 Lee St.

Jennifer Turner, 2306 Lee St.

Paul Wear, 920 Brown Ave.

 
STRANGE ART STUDIOS • 1711 Darrow Ave.
Alicja Pulit

Brian Petrone

Nancy

Zwick

Jaimie

Brunet
DONATE
Evanston Made is a 501(c)3 nonprofit arts organization with a mission to create engagement between Evanston's thriving creative community and the public. If you are able, please help support our programming by making a donation, any amount helps. 
Support Evanston Made and Make a Donation Today!
Related Events