Evanston Art Center, In Focus Lecture Series: Pop-Up Research Station
March 21 @ 2:00 pm

-

3:00 pm

Free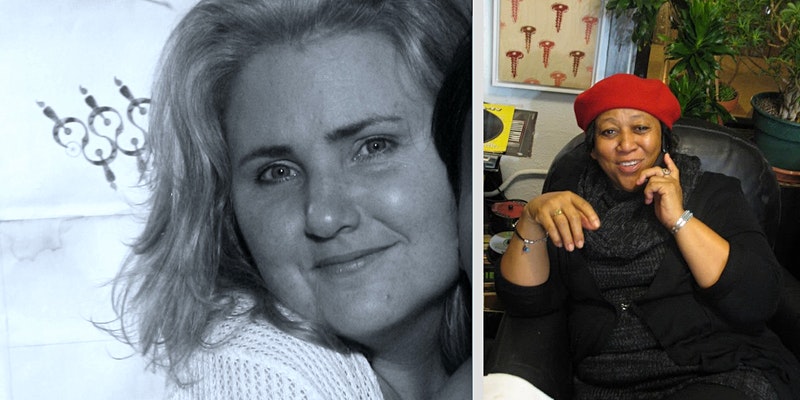 On Sunday, March 21, 2021 at 2pm, join us for a lecture about Pop-Up Research Station a Portal to Documenting Our Art Legacy featuring Alpha Bruton and Liza Simone.
This lecture is a part of the ongoing EAC series, "In Focus." "In Focus" features a variety of talks and presentations by ​artists, art professionals, historians and more!
Phantom Gallery Chicago's Alpha Bruton and Phantom Galleries LA Liza Simone have come together with the intent to create a network of support for artists, curators, and arts organizers who are engaged in temporary public art installations, in storefronts, and projects that engage community response. We envision the project as a portal for shared knowledge, a resource of best practices, ongoing professional development, and a place for moral support to enhance our collective impact.
In 2012 we launched a Podcast produced by GYST Radio on BlogTalkRadio. Pop-Up Research Station developed gradually: hosting "Creative Conversations" that explored "Temporary Public Art Installations"," Storefront Art Movements", "Creative Place-making", and projects that are the impetus for "Cultural Urban Planning".
The Pop-Up Research Station is a place to glean information. We see the Pop-Up Research Station as the portal to documenting our legacy, giving emerging curators and artists, new to the world of creative placemaking, a "Tool Kit" that has already been 20 years in the making, researched, developed, and implemented by artists who have carved out niches and built new communities from empty storefront to monthly art walks, and virtual trolley tours.
"Creative Conversation" on BlogTalkRadio will cover snapshots of artist stories, host real discussions on the problems we face, offer a support system as well as soliciting advice on how to avoid the potholes moving forward. The interviews done for Pop-up Research Station are conversational and geared toward the artist's mindset but will be helpful for those interested in our projects as a research tool.
Learn more: https://www.evanstonartcenter.org/events/focus-lecture-series-pop-research-station-portal-documenting-our-art-legacy
ABOUT THE EVENT
REGISTRATION IS REQUIRED.
Please register online through EventBrite: https://www.eventbrite.com/e/in-focus-lecture-series-pop-up-research-station-tickets-139700276287
This lecture will be virtual, and available via Zoom. After registering on Eventbrite, a day before the event, we will email you more information on how to log into the event via Zoom with the Meeting ID and password.
This event is free and open to the public.
About the Evanston Art Center
The Evanston Art Center (EAC) provides inspiring art education, exhibitions, and expression for all. The EAC is a non-profit that has supported the arts for more than 90 years.
For more information, please visit us online at www.evanstonartcenter.org or contact Cara Feeney, Director of Exhibitions, at cfeeney@evanstonartcenter.org.
Visit the Evanston Art Center on Facebook: www.facebook.com/EvanstonArtCenter; follow us on Instagram: @EvanstonArtCenter.
Related Events