Ceramic Pendant 1 day Workshop
August 20, 2022 @ 12:00 pm

-

4:00 pm

$45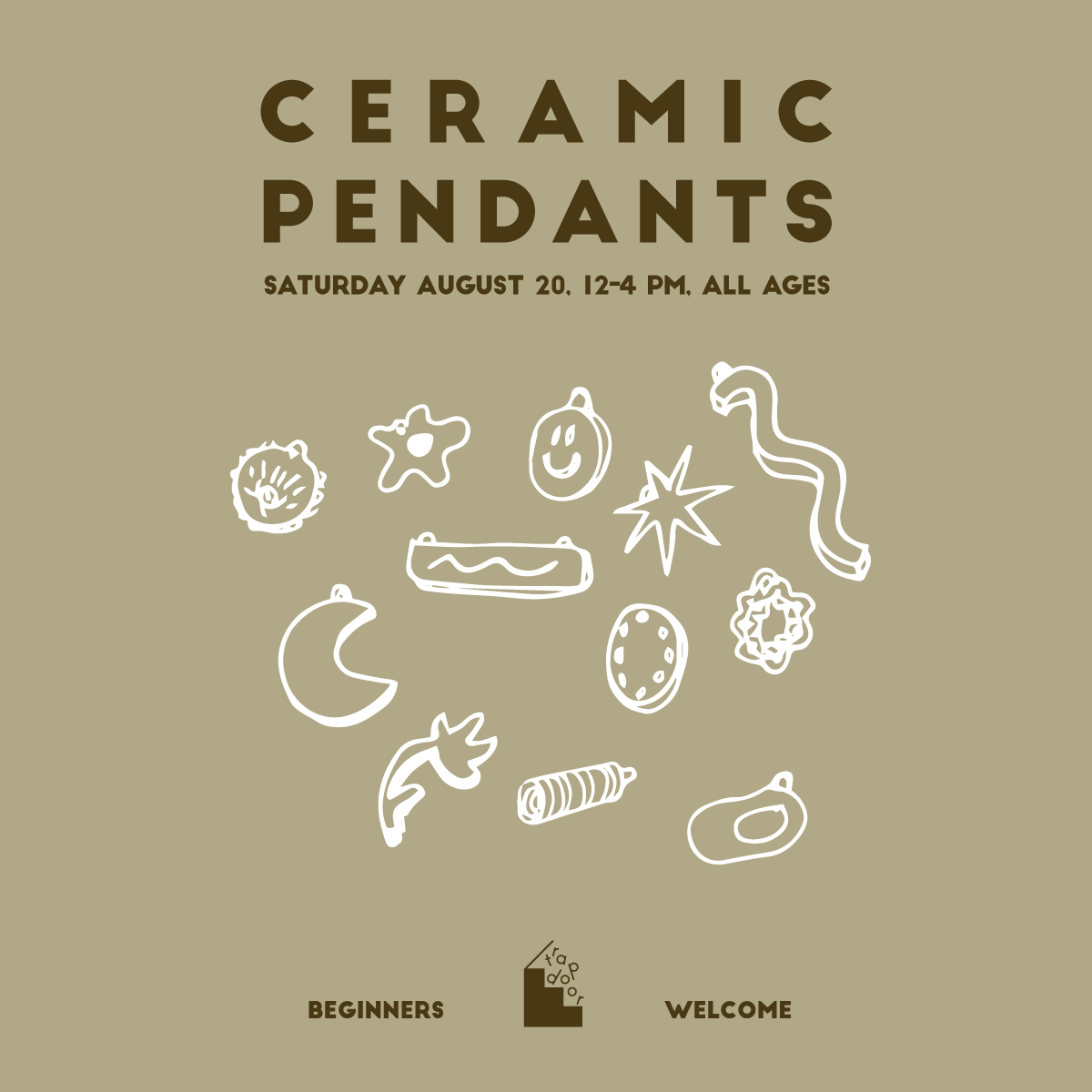 Join us at Trapdoor Studio to learn the basics of working with low fire clay and underglaze to create a pendant! In this 4 hour workshop led by Trapdoor founder Ava DeCapri, you'll learn the basics of low fire ceramics and glazing while being guided through making small scale pendants of your own unique design.
Workshop will cover:
Overview of low-fire clay and underglaze as it pertains to the small scale pendant .

Basics of clay prep and slab-building process through hands-on instruction

Understanding how to use underglaze and high-fire wire inserts.

overview of underglaze techniques on unfired clay

Understanding how to work with clay and how to set yourself up for successful results in firing

Each student will leave with at least 2 pendants as well as a PDF with information covered at workshop

Finished chain necklaces can be purchased at the end of the workshop if you would like to attach your pendant to a pre-made necklace. Gold and sterling silver chain necklaces will be available.
Due to the time constraints of the workshop, the pendants will be secondarily glazed and fired by your instructor. underglaze technique calls for a clear glaze to be applied in a second firing in order to have a glossy finish. Students will be able to pick up their finished work 2 weeks after the class during open hours, 12-6, Friday-Sunday.
While we will do our best to guide you through the design and fabrication process to set you up for successful results, we cannot guarantee that your pendant will come out as intended. Similarly, the ceramic firing process can be unpredictable and through the two firing stages, unpredictable results such as cracking and glaze errors and off-color results may occur. We will do our best to mend the work when possible and wan all our students to ultimately learn form any errors that may occur.
Date: Saturday, August 20th
Time: 12:00 pm -4:00pm
Location: Trapdoor Studio (address & access information will be emailed to students)
Trapdoor Studio will be implementing COVID-19 protocols during the workshop to ensure staff and vendor safety.
Class Fees cover all supplies and materials. No prior experience needed, all are welcome! We ask that if you are under the age of 13 that you be accompanied by a ticketed adult.
Due to the nature of booking we cannot offer refunds for tickets purchased for this event. Thank you for your understanding.
Related Events