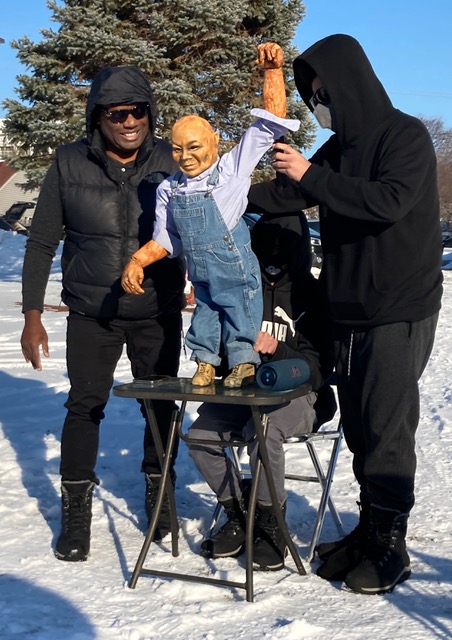 Evanston Made in the News
We are so grateful for the Evanston RoundTable's news coverage of Evanston Made's programs and events!
Evanston Made is hard at work designing programs that connect our 400+ members to community and any press or coverage we get, doubles the impact of our work.
During Winter Wonderland 2022, we collaborated with Jamie Thome of Artists Book House to host an incredibly unique and interesting Puppet Show by Sam J. Lewis II.
Sam is an accidental puppeteer who tries to create intentional work. He has worked for over a decade with a vintage Black Americana marionette, which he reimagined as the character, "Jus Hambone," which confronts and challenges racist imagery of Black people. Currently, he's working with his two sons, using a newly built rod puppet. A puppet representing his paternal grandfather, creating a long-form puppetry piece based on recently discovered family history, tentatively titled, Everybody Knew Their Place.
Click here to read Gay Riseborogh's review here and stay tuned for more opportunities to see this impactful and interesting puppet show about
Winter Wonderland is an annual community collaboration between Canal Shores, Downtown Evanston and Evanston Made, that invite the public to get outdoors in Winter to create and experience an immersive nature art exhibit at Canal Shores Golf Course. Free and open to all, weekly meet ups at the fire pit include art making, art tours and community! Click here to learn more.
Evanston Made is a membership-based 501(c)3 nonprofit arts organization in Evanston, IL. with a mission to connect artists and artisans to art enthusiasts and also to provide community and professional development to our members to further their careers. Membership is open to artists, artisans, makers who make everything from art to clothes to music. We also welcome members who are art lovers and patrons who want to help us carry out our mission. Click here to support our programming by making a donation of any size.