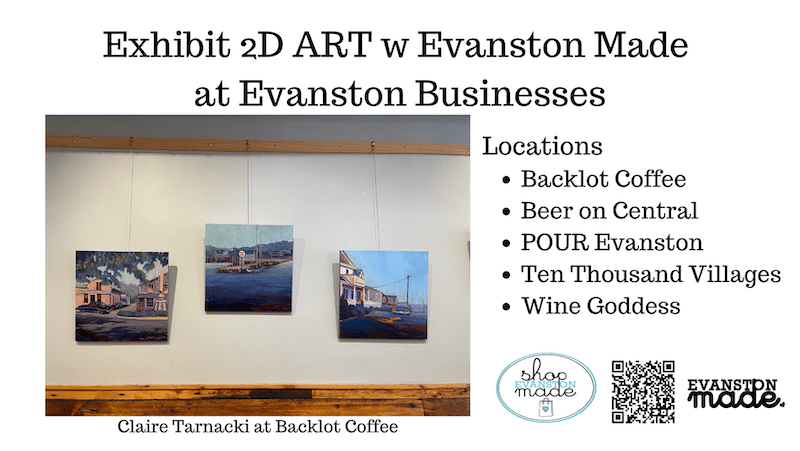 Evanston Made 2D Art on Display in Evanston Businesses
Evanston Made Artists on Display in Evanston 
Evanston Made partners with Evanston businesses to exhibit 2D art by Evanston Made members. Artists are invited to show work for a month, work must be for sale and ready to install on walls. 
How Artists can participate
Join Evanston Made, annual fees and info here

Build a Portfolio Page on evanstonmade.org, INFO

here

Upload art on exhibit for sale on

shopevanstonmade.org

Evanston Made creates a 8.5″x11″  one-sheet to display with your info, price list of pieces and a QR code to your artist page on shopevanstonmade.org 

Submit images of work for promotions

All work submitted must be ready to hang, with a wire on the back. Installation will be done with an EM volunteer

30% commission from sales go to Evanston Made 
Show Dates
Each artist is given a month to show their work. All work is installed before the first day of the month, and removed 2 days before the month's end, i.e. July 30 install for Aug. 1 show. Installation dates and times are coordinated with the previous month artist.
Installation
Art must be wired and ready to install. Framing not required, just wire in the back.
Promotions
Send images of the work Evanston Made, info@evanstonmade.org, and we will send you a graphic to promote. We ask that you notify your network of the exhibit too.
Participating Businesses
Evanston businesses can show support for Evanston Artists by joining Evanston Made as Partners. In addition to exhibiting 2D art by our members, we invite Partners to host member's mixers, receptions, and be a site for First Saturday Art Events – all of this builds community with Evanston businesses and customers who prioritize supporting Evanston small businesses. Info to join EM here. 
Evanston Made art is on display at; 
Backlot Coffee, 2006 Central St.

Beer on Central, 1930 Central St.

POUR, 528 Dempster St.

Ten Thousand Villages, 915 Chicago Ave.

The Wine Goddess, 702 Main St. 
Frame Shops in Evanston
Evanston Made currently partners with frame shops across Evanston to meet your framing needs!
Alley Gallery, 1712 Rear 2, Sherman Ave.

Masterpiece Framing, 714 Main St.

Tremain Art, 838 Custer Ave.
Email questions to info[at]evanstonmade.org or call (8487)544-8205
ABOUT
Evanston Made, a 501(c)3 nonprofit arts organization with the mission to connect Evanston artists to the public through programming and events. Membership info here.
Tags In