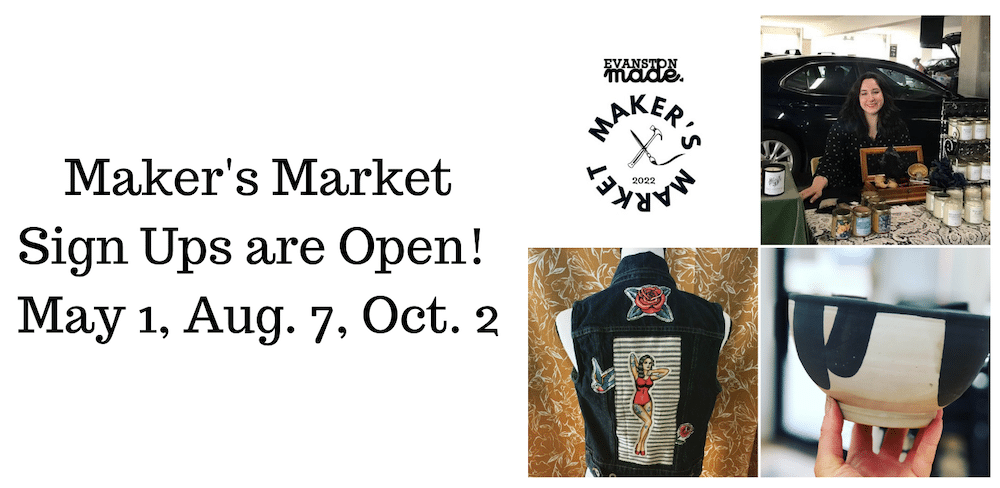 Call for Makers!
Evanston Made Maker's Markets take place on, LEVEL 5 of the Maple Ave. Parking Garage, at 1800 Maple Ave. in Downtown Evanston. Market dates: May 1, Aug. 7, Oct. 2, 2022, 12-5p.
Outdoors, in a covered parking garage, this market features hundreds of unique and one-of-a-kind, handmade goods like art, craft, wearables, jewelry, stationary, handbags, etc. 
Markets are hosted on Sundays this year; May 1, August 6, and October 1, 12-5p @ Maple Parking Garage. Google Map.
VENDOR SIGN UPS
Sign up to sell your goods on the following Market Dates*
*100 vendors can sign up per market. Sign ups are non-refundable. 
FAQs
Vendors must sell handmade goods! 

Vendors receive a graphic to promote the event, share with your networks! 

Vendors receive a tax form to fill out for the State of IL for event sales, to send in when market sales are complete 

PARKING IS FREE

Vendors are 100% responsible for market sales, and don't have to share proceeds with anyone! Sell goods at any price point, and take any method of payment! 

Event info and vendor photos:

https://evanstonmade.org/makers-markets/

Cars are not required to participate

Vendors must bring their own tables and chairs

Starting at 9a, vendors arrive and start setting up

Garage layout is confusing – just GO RIGHT! Don't read the direction signs in the parking garage, you will get LOST! Follow the ridiculous maze RIGHT that is this parking lot up to the 5th floor. Don't panic, just keep driving up and up and right and right.

Vendors set up on the

5th Floor

. Spaces are first come first serve, volunteers will point where to park. 

Set Up & Take Down: Vendors, spaces will not be preassigned and will be directed to the next available spot as you enter Floor 5. Park and start setting up immediately, in the parking spaces. 

Vendors need to be set up to sell by 11:30a

Porta Potties

are located on first floor of parking lot

Doors open at 12p and vendors sell until 5p 

Breakdown starts at 5p, once the show is over, vendors pack up, pull out, go home. No vehicles can leave the sale until 5p

No electric outlets! Bring chargers!

Bring water and snacks, there are NO food sales 
Still have questions? Email us at info@evanstonmade.org
***
Evanston Made is a membership-based 501(c)3 nonprofit arts organization in Evanston, IL. with a mission to connect artists and artisans to art enthusiasts and also to provide community and professional development to our members to further their careers. Membership is open to artists, artisans, makers who make everything from art to clothes to music. We also welcome members who are art lovers and patrons who want to help us carry out our mission. EIN# 84-3971750