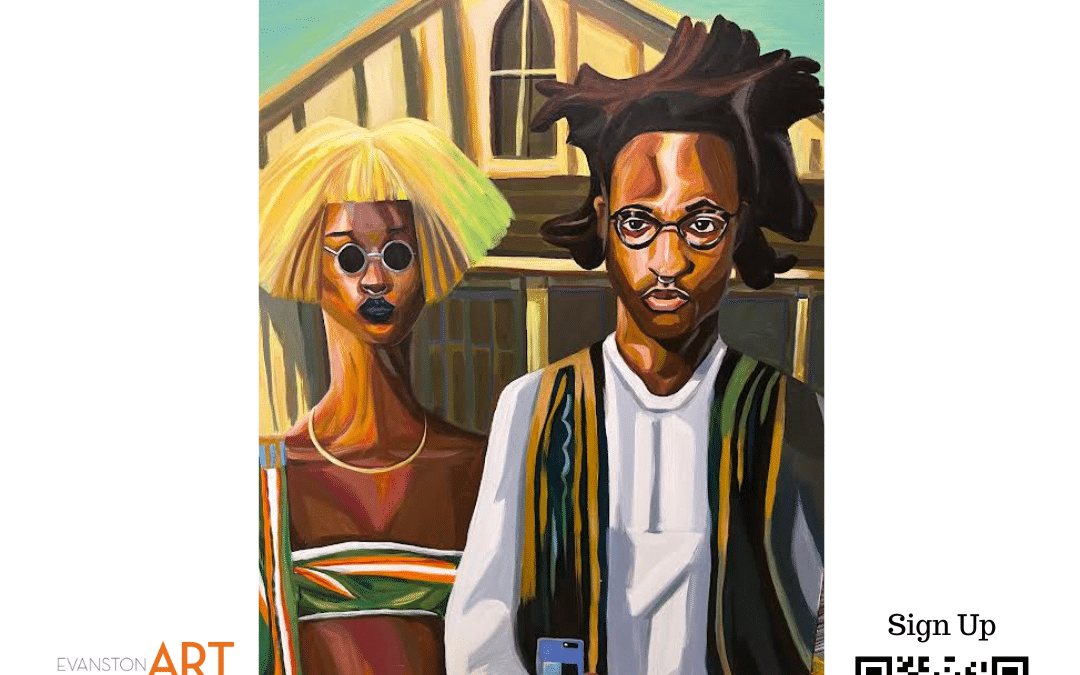 CALL for ART: Evanston Made 2023 BIPOC Artists Group Show
Evanston Made 2023 Call for – BIPOC Artists @ Evanston Art Center: Exhibition/Talks/Workshops/Events
Evanston Made is seeking – BIPOC artists to exhibit their work at the 2nd Annual BIPOC Group Show hosted by the Evanston Art Center, June 2023. We want to support BIPOC artists who live in Evanston and adjacent communities, through exhibitions of contemporary art, artist-led workshops, artist talks and events. Evanston Made seeks to support the professional growth of artists who identify as BIPOC.
This exhibit offers Artists the chance to:
Exhibit their work for approximately 4 weeks in a gallery setting;

Receive support installing the exhibit;

Benefit from Evanston Made's marketing of the exhibit;

Invitation to host an artist talk or presentation at the exhibit;

Be featured at an exhibition reception; and

Permitted open access to the Evanston Art Center is open to host friends and potential curators in the exhibit.
Call for Art: On My Own Terms  
Artists are asked to respond to terms/labels that are used to identify "race" such as BIPOC – the acronym referring to "black, indigenous, (and) people of color" which first appeared around 2013, Hispanic –  first  used by the federal government in  the 1980 census -, Asian American – established in 1968, American Indian or Native American – both used to describe indigenous peoples in the Americas,and any other label used to define and identify non-white people.
The exhibition will showcase art created by BIPOC artists in response to racial labeling and self-identifying. Works are not limited to self-portraiture and can be submitted in the form of 2D, 3D, multimedia and installation. This call for art, the exhibition, and related programming  is done in collaboration with local BIPOC artists and advisors.. Participating artists keep 100% of sales from this exhibit.
CLICK HERE TO SIGN UP
Group Show Timeline
Deadline to apply • May 12

Art Delivered to Evanston Art Center • May 22

Opening night Reception • Friday, June 2, 5-8p

Group Show on display • June 2 – 30
Group Show FAQs & Deadlines
2D ART Deadline to apply (two works per artist) • May 12

3D Installation and multimedia art proposals deadline for • May 5

Size limits will be addressed on an individual basis, email questions to info@evanstonmade.org

Deliver art to Evanston Art Center, 1717 Central St. • May 22-26, 9a-4p

Loan documents must be attached to art upon delivery, copied and emailed by May 22

2D art must arrive ready to hang; framed, stretched, wired, d-rings, etc.

Commissions: Evanston Art Center and EM takes no commission. 100% of sales go to the artist. 

Exhibit dates; June 2 – 30, 2023 

Opening Reception, Friday, June 2, 5-8p. You will receive an invite and promotional graphic to share with your networks. 

No FEE to participate for Evanston Made members

,

click here to join

.
ABOUT 
Evanston Made continues to bring visibility to BIPOC artists in our community with annual Group Shows and opportunities for BIPOC artists to build community with one another. The BIPOC Annual Group Show, started in 2022, was born out of Evanston Made's "Equity & Inclusion" discussions. We committed to increasing membership for BIPOC members to 15% and to creating opportunities designed specifically for BIPOC artists. The BIPOC Group Show serves as a membership drive for the organization and  addresses the growing interest of art collectors in the region who are passionate about supporting BIPOC artists. Evanston Made plans to host events to connect BIPOC artists to new collectors and patrons.
Evanston Art Center has partnered with Evanston Made to host Annual Group Shows featuring Member's work since 2017. Located at 1717 Central Street, blocks from the Metra stop, the Evanston Art Center features an exceptional exhibition space, ADA accessible galleries and a professional curatorial team. Evanston Made is grateful for the opportunity to exhibit artists and host events in this space. Learn more at https://www.evanstonartcenter.org/
Please reach out with any questions to Lisa Degliantoni, Founder and Co-Director of Evanston Made, (847)544-8205
This call for art was created in collaboration with help from Melissa Raman Molitor, ATR-BC, LCPC (she/her) Associate Professor, Adj., School of the Art Institute of Chicago www.thirdspacearts.com and Director, Studio 3 www.studio3evanston.org