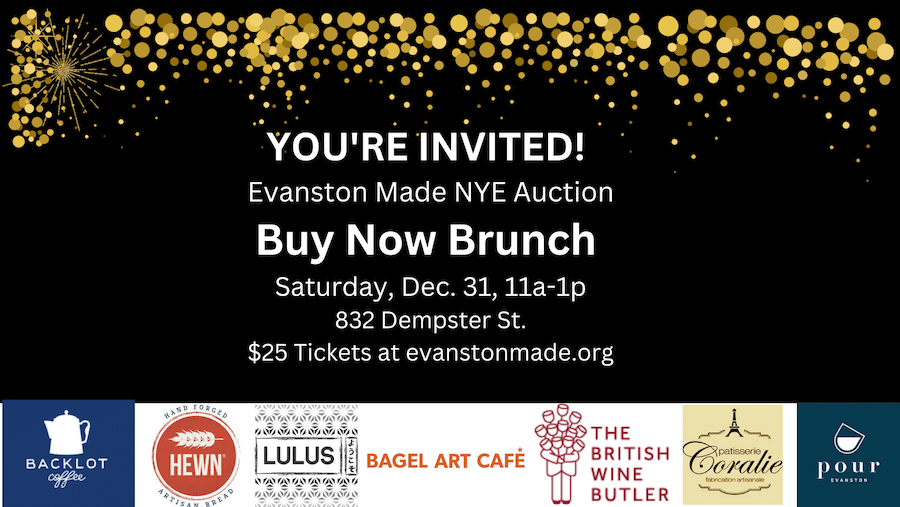 Buy Now Brunch Supporting the Evanston Made Annual Auction
Join us for Evanston Made's biggest fundraiser of the year – the Annual Auction!
This year, we're hosting a Buy Now Brunch!
Avoid the auction hassle and purchase donations at Market Price! We're hosting an in-person "Buy Now Brunch", Dec. 31, 11a-1p! Join us to purchase donations, mix and mingle with artists and patrons, enjoy delicious beverages and bites.
Food & Drink Sponsors
Delicious food and drink will be provided by Evanston restaurants to include Backlot, Hewn, LuLus, and Patisserie Coralie, The British Wine Butler will host a sparkling wine tasting, Bagel Art Cafe will serve bagels and Evanston POUR will provide coffee.
Where: 832 Dempster St., Evanston, IL 60202. When: Saturday, December 31, 11a-1p. Tickets for this event are $25/each here
NYE Auction 
Bid and Buy Art, Handmade Goods and Experiences at Evanston Made's 3rd Annual New Year's Eve Auction! Bidding starts at Saturday, Dec. 31, 12p CST. Register online at 32auctions.com/evanstonmade
#supportevanstonarts #collectevanstonart 
This Auction is our largest fundraising event of the year, featuring original art, handmade goods and experiences, donated by "Friends of Evanston Made".
RSVP here to let us know you're going to participate and to receive Auction updates.
How the auction works!
Bookmark 32auctions.com/evanstonmade to see the auction donations and make your bid starting Dec. 31, 12p. The minimum bid starts at $150 and we encourage you to check your phone and email for updates when you're outbid!
Sales are for LOCAL DELIVERY only. Purchases made by buyers outside of a 45 miles radius from Evanston will require shipping arrangements and the buyer is responsible for any shipping costs.
How to Bid
To participate in the auction, you need to c

reate an account

at

32auctions.com/evanstonmade

Preview donations at

32auctions.com/evanstonmade

Start bidding online at

32auctions.com/evanstonmade

at 12p CST on Dec. 31

Check email, cell phone, for bidding status and updates

Check email for payment and delivery options when your bid wins! 
Tags In