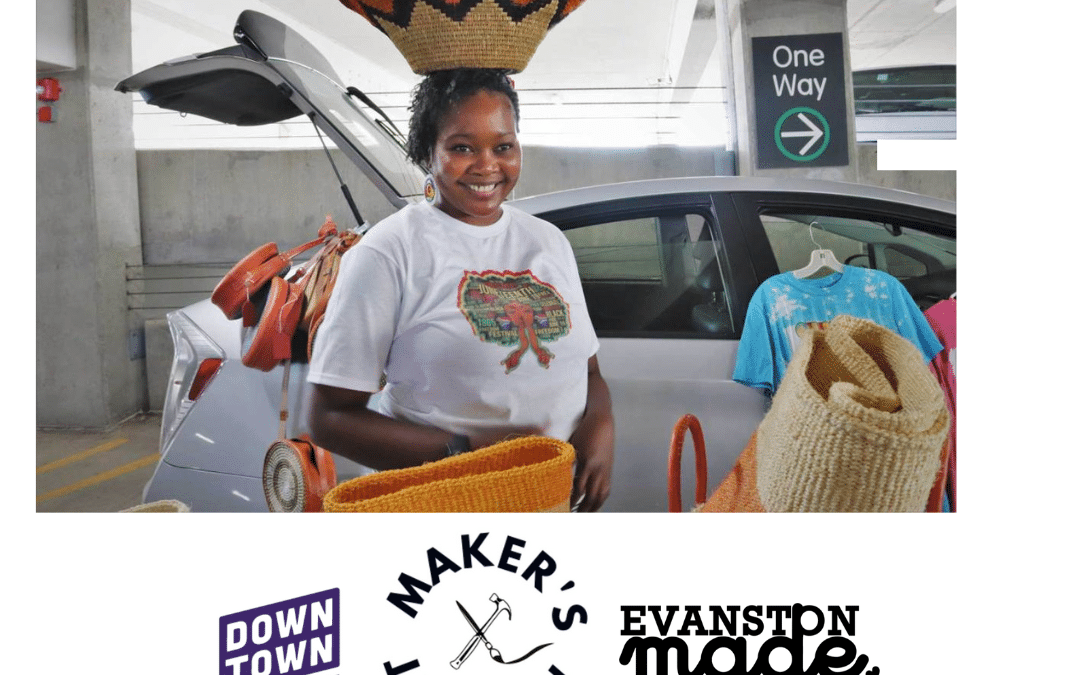 5th Annual Maker's Market Season Launches May 7, 2023
Evanston Made, the City of Evanston and Downtown Evanston partner to host the 5th Annual Season of Maker's Markets in the Maple Avenue Parking Garage.
Sell what you make or Shop for handmade goods at Maker's Markets on Sundays 12-5p, May 7, Aug. 7 and Oct. 8! 
Outdoors, in a covered parking garage, this market features hundreds of unique and one-of-a-kind, handmade goods like art, craft, wearables, jewelry, stationary, handbags, etc. 
FREE PARKING! FREE TO SHOP!
VENDORS – sell what you make at this FUN and FUNKY market!
Volunteer to help make this event a success! Fill out the volunteer form here.
Market Sponsors
Your donation is a gift to this event that supports our creative community, opportunities for selling and sharing work, while contributing to the inclusive fabric of the arts in Evanston. Email info[at]evanstonmade.org for Sponsorship Package information.
Market Dates 2023 – Sundays, 12-5p, FREE to shop, FREE to park
***
About Evanston Made
Evanston Made is a 501(c)3 non-profit arts organization, connecting artists and artisans to art enthusiasts and patrons, located in Evanston, IL. EIN# 84-3971750
Join Evanston Made 
Evanston Made is a membership-based 501(c)3 nonprofit arts organization in Evanston, IL. with a mission to connect artists and artisans to art enthusiasts, collectors and new peers in the art world. Membership is open to artists, artisans, makers who make everything from art to clothes to music. We also welcome members who are art lovers and patrons who want to help us carry out our mission. Learn more at evanstonmade.org/membership/
Support Evanston Made 
Evanston Made is a membership based, 501(c)3 nonprofit arts organization. If you are able, please help support our programming by making a tax-deductible donation, any amount helps. Visit evanstonmade.org/donate/