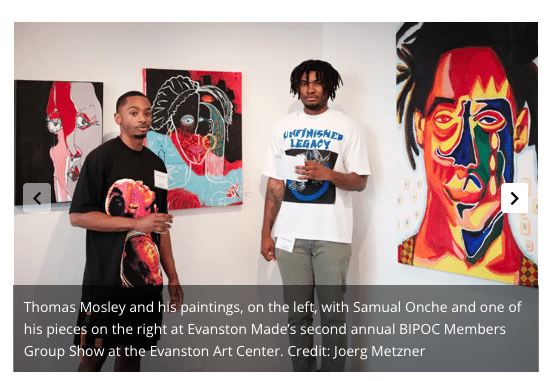 Evanston Made Members Group Shows are hosted at locations across Evanston. Upcoming Group Shows and Calls for Art, are listed below and on the Community Calendar here. 
JUNE 2023 Evanston Made BIPOC Members Group Show @ Evanston Art Center
PRESS
Click here for the "Picturing Evanston" photo essay from the opening reception by Joerg Metzer at Evanston Roundtable.
Click here to read an interview by Gina Castro at at Evanston Roundtable with Lisa Degliantoni and Crystal Mcdonald.
ARTISTS FEATURED
Abby Stahr- Visibility Arts, Al Hawkins, Alexia West, Amatziyah Thurman, Andrew Walker III, Billy Taylor, Braulio Martinez, Chenya (Isobel) O'Hara, Cherie Lockett, Cheryl Iino-Jue, Christian Aggari, Crystal McDonald, Daniel Aquino, Danielle West, Debra Salter, Elsie Bell, Fran Joy, Genesis Falls, Gregory Jue, Indira Johnson, J Allen Hyde, Jacqueline Sanchez, Jaden Ford, Jasmmine West, Jennifer Turner, Jennifer Joyce Zoleta, Jevoid Simmons, John Wangendo, Jose Serna, June Ahleman, Kali (Leo) Taylor, Kristel Becares, Mariana Morales, Marissa Domantay, Marissa Krielaart, Olga Masevich, Orman Ward – Visibility Arts, Paula Cofresi-Silverstein, Peyton Evans, Robert Brewer, Samuel Onche, Sarita Kamat, Sholo Beverly, (Sirimas) Benz Amatayakul, Tanea Crawford, Thomas Mosley, Tiffani Elmore, Timothy Erickson, Vanessa Barrett- Visibility Arts, Yancey Hughes and Yeefah Thurman 
EXHIBIT
The exhibit is on display May 27 – June 30, and will host public programming throughout the month to include artist-led workshops, artist talks, panel discussions and more. 
All events will be FREE and open to the public, during the exhibit and will announce and promote events on the Evanston Made Community Calendar here. 
Hosted at Evanston Art Center, 1717 Central Street, Evanston, IL 60202.
ABOUT 
Evanston Made continues to bring visibility to BIPOC artists in our community with annual Group Shows and opportunities for BIPOC artists to build community with one another. The BIPOC Annual Group Show, started in 2022, was born out of Evanston Made's "Equity & Inclusion" discussions. We committed to increasing membership for BIPOC members to 15% and to creating opportunities designed specifically for BIPOC artists. The BIPOC Group Show serves as a membership drive for the organization and  addresses the growing interest of art collectors in the region who are passionate about supporting BIPOC artists. Evanston Made plans to host events to connect BIPOC artists to new collectors and patrons.
Evanston Art Center has partnered with Evanston Made to host Annual Group Shows featuring Member's work since 2017. Located at 1717 Central Street, blocks from the Metra stop, the Evanston Art Center features an exceptional exhibition space, ADA accessible galleries and a professional curatorial team. Evanston Made is grateful for the opportunity to exhibit artists and host events in this space. Learn more at https://www.evanstonartcenter.org/
Please reach out with any questions to Lisa Degliantoni, Founder and Co-Director of Evanston Made, (847)544-8205
This call for art was created in collaboration with help from Melissa Raman Molitor, ATR-BC, LCPC (she/her) Associate Professor, Adj., School of the Art Institute of Chicago www.thirdspacearts.com and Director, Studio 3 www.studio3evanston.org