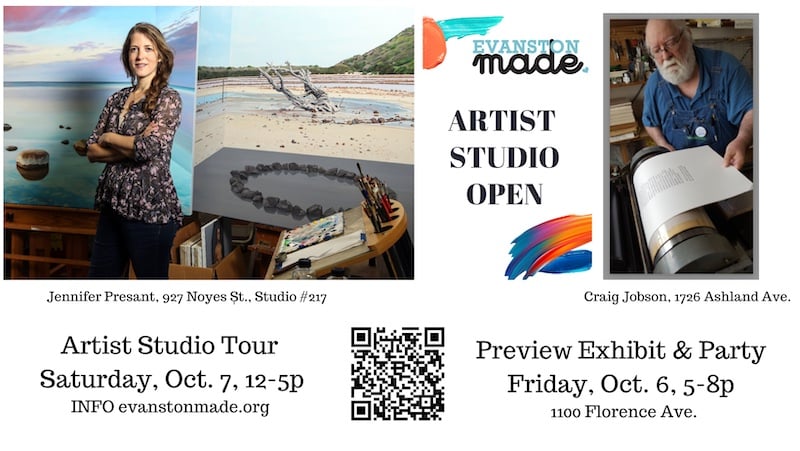 Evanston Made Studio Tour on Saturday, October 7, 12-5p
This is a fantastic event to start your Evanston Art Collection! Meet artists in their studio, learn about their practice and shop for art. The Studio Tour Map is available at artist studios and at 1100 Florence Gallery.
Artist Studios are open Saturday, 12-5p, and are located throughout Evanston!
The Artist Open Studio Tour Map is available at artist studios listed here, on Google maps here, at evanstonmade.org and at 1100 Florence Gallery, during the pop up exhibit, info here.
Click here to RSVP to the Studio Tour and event updates!
Exhibit 
Artists participating in this event will exhibit their work at 1100 Florence Gallery. Join us Friday, October 6, 5-8p, for an opening reception and to pick up copies of the Studio Tour Map. This pop up exhibit is on display 10/6 - 10/8. Click here to RSVP to attend. 
PARTICIPATING ARTISTS
NOYES CULTURAL ARTS BUILDING • 927 Noyes St.
Adriana Poterash, Studio 214

Zafar Malik, Studio 214 

Sarah Kaiser-Amaral, Studio 215 

Jill King, Studio 217 

Bonnie Katz, Studio 219

Socorro Mucino, Studio 221  

Maggie Weiss, Studio 221 

Jennifer Presant, Studio 217 

Anne Sills, Studio B10A
WEST VILLAGE
Joanna Kramer, 1400 Greenleaf St.

Fireheads Clay Studio, 1042 Wesley Ave.

Darin Walsh, 1516 Greenleaf St. 

Rachel Posnak,

1522 Greenleaf St.

Ben and Melissa Blount, 1123 Florence Ave.

Beth Adler, 1125 Florence Ave.

amy o woodbury,

1127 Florence Ave.

Judith Lewin, 1127 Florence Ave.

Janice Fleckman, 1129 Florence Ave.

Jack Kraig,

1532 Crain St.

Patricia Patterson, 1616 Crain St., Unit 2

Julie Cowan,

1121 Ashland Ave.

Rita Shimelfarb,

1122 Dewey Ave
STRANGE ART STUDIOS • 1711 Darrow Ave.
Alicja Pulit

Brian Petrone

Nancy Zwick

Jaimie Brunet

Jayne Lilienfeld-Jones
DOWNTOWN EVANSTON
Sarita Kamat, 1627 Sherman Ave.

Mark Collins,

 

1718 Sherman Ave. #305
WEST OF DODGE
Alice George, 2308 Lee St.

David Rubman, 2308 Lee St.

Jennifer Turner, 2306 Lee St.

Sandra Robinson, 917 Fowler

Paul Wear, 920 Brown Ave.
MORE …
Craig Jobson,

1726 Ashland Ave.

Carol Hammerman, 1119 Hinman Ave.

Joyce Elias, 1210 Sherman Ave.

Mary Seyfarth, 1236 Sherman Ave.

Jamie Thome, 1408 Seward St.

Mary Graham, 1209 Lee St. 

Madeline Usher, 537 Custer Ave., Unit 6

Patrick Duncan,

1731 Dodge Ave.
Just BEYOND EVANSTON …
Andryea Natkin, 3111 W Jarvis Ave., Chicago, IL 60645

Cherie Lockett, Midwest Clay Guild,

8124 Lawndale Ave, Skokie, IL, 60076
GALLERY OF PARTICIPATING ARTISTS
PRESS
Click here for the "Picturing Evanston" photo essay from the studio tour by Joerg Metzer at Evanston Roundtable.
Click here to RSVP for event updates and map.